It's really really hard to take a good picture of a meat pie but trust me when I say this is absolutely delicious and easy to put together.

The salad was a breeze too, although, the first time I made it I put a little too much lemon juice in it. It's beautiful to look at(although my picture isn't great) and delicious.

Both of these recipes are from Claudia Roden's Arabesque, which is quickly becoming one of my favorite cookbooks.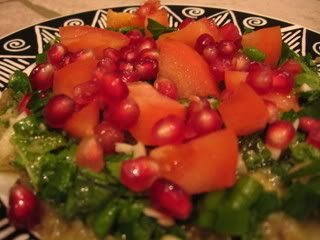 Eggplant and Tomato Salad(Batinjan Raheb)
6-8 servings

2-3 eggplants (about 2lbs)
Juice of 1/2 to 1 lemon
3 garlic cloves, crushed(I chopped mine)
4 tbs extra virgin olive oil
salt and black pepper
large handful of chopped flat leaf parsley
4 sprigs mint, chopped
4 scallions, finely sliced
4 plum tomatoes, diced
handful of pomegranate seeds

Prick the eggplants in a few places with a knife and roast on a foil lined baking sheet for 45-55 minutes or until the skin is charred and the eggplant is very soft.

When the eggplants are cool enough to handle peel them and and drp them into a colander or strainer with fine holes. Press out as much of the juices as possible. With a small knife chop the eggplant(still in the colander) and mash with the back of the spoon to get more of the juice out.

Mix the eggplant puree with the lemon juice, garlic, olive oil, salt, pepper, parsley and pint. Spread the puree on a flat place and sprinkle with the scallions, tomatoes and pomegranate seeds.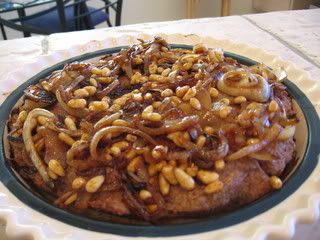 Baked Kibbeh with Onion and Pine Nut Topping (Kibbeh Saniyeh)
serves 6

For the kibbeh
2/3 cup fine ground bulgur
1 medium onion quartered
1 lb lean boness leg of lamb(I bought ground)
1/2 tsp salt
black pepper
1 tsp cinnamon


For the topping
1 lb onions liced thin
3 tbs extra virgin olive oil
1/4 to 1/3 cup pine nuts
salt and black pepper
1/2 tsp cinnamon
pinch ground allspice
1/2 to 1 tbs pomegranate molassas(optional but recommended)

Rinse the bulgur in a fine sieve under cold water and drain well. Puree the onion in a food processor Add the meat and the spices and blend to a paste. Add the bugur and blend to a smooth soft paste.

Press paste into a well oiled round shallow baking dish or tart dish(I used a pie plate). Flatten and smooth the top and cut the contents into 6 wedges and run the knife around the edges of the dish. Bake at 375 for 30 minutes.

While the meat is baking prepare the topping. Fry the onions in the olive oil until they are golden brown, stirring often. Add the pine nuts andstir until lightly colored. Add the spices and the pomegranate molassas and stir a minute more.

Spread on top of the kibbeh and serve.