I was attracted to this recipe by the name. Evil Jungle Prince? What's so evil? And who was this prince of the jungle.

Turns out this recipe originated at a Thai restaurant in California. Hence it's sorta Thai. I could not find an explanation of how it came to be named.

I neglected to pick up Thai bird chilis and Thai basil during my Whole Foods visit so I had to use serranos and regular basil. I don't know how much this changed the flavor profile of the dish. For all I know I made Naughty Jungle Prince.

I'll definitely make it again soon with the proper ingredients. It was very fast to put together and the ingredients are easy to keep on hand.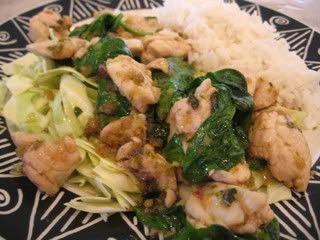 Evil Jungle Prince
Recipe from Recipe Land

1/2 lb chicken breasts boneless, or 1/2 lb mixed vegetables
2-6 small red chili peppers
1/2 Stalk lemon grass
2 kaffir lime leaves
2 tablespoons vegetable oil
1/2 cup coconut milk
1/2 teaspoon salt (I didn't use any salt because of the fish sauce)
1-4 tablespoons fish sauce (I used 3 tbs)
10-15 basil leaves
1 cup cabbage chopped

Thinly cut chicken into 2-inch strips. (If doing veggie version, cut vegetables into thin strips.) Grind together red chili peppers, lemon grass, and kaffir lime leaves in a food processor or pound in a mortar. Heat oil to medium-high and saute pepper mixture for 3 minutes.Stir in coconut milk and cook for 2 minutes.Add chicken (or vegetables) and cook for 5 minutes or until cooked. Reduce heat to medium-low.Stir in fish sauce, salt, and basil. Serve on a bed of chopped cabbage.