Sorry about the absence! I've been buried in work, life and lost my cooking mojo for a moment It happens I suppose.

Both of these recipes come from the Hot Sour Salty Sweet cookbook.

I've used the coriander root paste as a marinade for this dish many times and love it. This fish was good but I prefer the paste on chicken. I also think I overcooked my fish a bit which is never a good thing. I baked it in the oven telling myself the entire time I should have done it on the grill. Note to self: listen to inner voice.

The cucumber salad is also a regular on my summer dinner rotation. I absolutely love it! There are never any leftovers.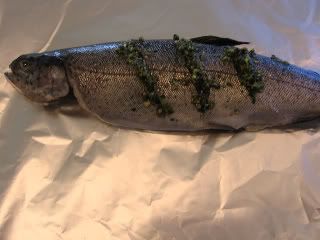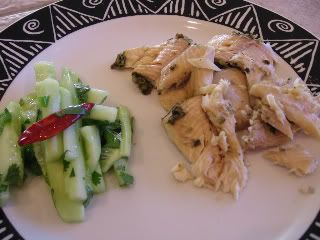 Baked Bass with Spicy Rub
2 1-1 1/2 lb whole gutted and scaled firm fleshed fish(bass, trout or snapper)
2 tbs Peppercorn-Coriander Root Flavor Paste
2 stalks lemongrass smashed and chopped into 1 inch lengths
2 limes cut into wedges
Salt and fresh ground pepper

Preheat oven to 400 or grill to medium heat.
Wash the fish inside and out and pat dry.
Make 3 diagonal slashes in each side of the fish.
Stuff coriander paste into slashes and over outside and inside of fish.
Place lemongrass slices inside fish.
Wrap fish in foil or banana leaves and bake 30-40 minutes in oven or grill 15-20 minutes each side until done.
Serve with lime wedges.

Pepper Coriander Root Flavor Paste

2 tsp black peppercorns
5-6 large cloves of garlic, chopped
3 tbs coarsely chopped coriander roots
pinch salt
1 tsp Thai fish sauce

I took the lazy route and whirled the peppercorns, garlic, salt and coriander roots to a paste with my mini-prep until it formed a paste and added the fish sauce. The recipe suggests pounding to a paste in a mortar and pestle, and I've done that before with good results.

Spicy Cucumber Salad

In this salad, the cucumbers are first dressed with a little vinegar, then dressed again with hot oil. The contrast of smooth chile-warm oil and crisp fresh cucumber is a knockout. The salad has a mild but not aggressive heat made with the 5 dried red chiles. Note that the cucumbers will soften if they're left standing, so don't pour the hot oil over them until just before you wish to serve the salad.
1 large or 2 medium European cucumbers (1 to 1-1/4 pounds)
2 tablespoons rice vinegar
1 tablespoon sugar
2 tablespoons peanut or vegetable oil
5 Thai dried red chiles, or 3 for milder heat
1/2 jalapeño, minced
7 Sichuan peppercorns
1/2 teaspoon salt
1/4 cup packed torn coriander leaves

Peel the cucumber, leaving some thin strips of peel on if you wish, for a decorative effect. Cut lengthwise into quarters and scrape off and discard the seeds. Use the flat side of a cleaver or large knife to bash the cucumber pieces several times. Cut the pieces lengthwise into thinner strips, then cut crosswise into 2-inch lengths. Place in a medium bowl. In a small bowl, mix together the vinegar and sugar. Pour over the cucumber, mix well, and set aside.Place a wok or skillet over high heat. When it is hot, add the oil and swirl to coat the pan. Toss in the dried chiles, jalapeño, and peppercorns and stir-fry for 20 to 30 seconds. Pour this over the cucumbers. Sprinkle on the salt and mix well.Mound the salad in a shallow bowl. Sprinkle on the coriander leaves and serve immediately.

Note: The traditional way to make this uses 3 tablespoons of oil, giving a well-oiled texture that may be undesirable. If you wish, try both and see which you prefer (two was perfect for me).