It's not really soup season here but I'm so freakin' tired of summer I had to do it! I'm hoping for cooler weather soon.

Also I sort of had all the ingredients on hand and by sort of I mean I used canned tomatoes. I also wanted to start digging into my stash of RG beans. I used borlotti beans.

I love the soup! It's pretty hearty so a green salad and some bread are all that's needed to round out the meal. If you use vegetable broth instead of water you could serve it whole instead of pureed and it would be excellent. I used an immersion blender for that step.

It's an all day soup. 8 hours to soak the beans and up to 3 1/2 hours cooking time. I'm not sure why the recipe on Epicurious said 50 minutes. It also makes the house smell really really good.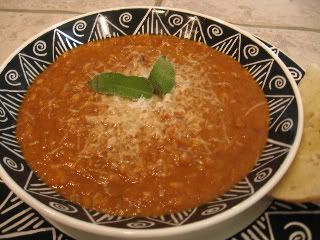 Tuscan Farro and Bean Soup
Gourmet August 2006
Adapted from Beth Elon, author of A Culinary Traveler in Tuscany

Servings: Makes 6 to 8 servings.

1 cup dried borlotti or cranberry beans
3 tablespoons extra-virgin olive oil plus additional for drizzling
1 large onion, coarsely chopped
2 carrots, coarsely chopped
1 celery rib, coarsely chopped
2 garlic cloves, smashed and peeled
10 cups water
1 large tomato (1/2 lb), coarsely chopped
1/4 cup loosely packed fresh flat-leaf parsley leaves
10 fresh sage leaves
3 sprigs fresh thyme
1 cup whole-grain farro
2 1/2 teaspoons salt
1/2 teaspoon black pepper

Pick over and rinse beans. Soak in cold water to cover by 2 inches at least 8 hours and up to 12 hours. Alternatively, quick-soak beans. Drain well.

Heat oil in a 5- to 6-quart heavy pot over moderate heat until hot but not smoking, then cook onion, carrots, celery, and garlic, stirring occasionally, until onion is softened, about 10 minutes. Stir in water, drained beans, tomato, parsley, sage, and thyme and bring to a boil, then reduce heat and cook at a bare simmer, partially covered, stirring occasionally and adding more water if necessary to keep beans covered, until beans are tender, 2 to 3 hours.

Discard thyme sprigs, then blend mixture in batches in a blender until smooth (use caution when blending hot liquids), transferring to a large bowl. Return soup to pot and bring to a boil. Add farro and salt, then reduce heat and simmer, stirring frequently, until farro is tender (it will be chewy like barley), about 30 minutes. Stir in pepper and serve drizzled with additional oil.

Cooks' Notes:
• To quick-soak, put beans in a 4- to 5-quart pot and cover with cold water by 2 inches. Bring to a boil, uncovered, then boil 2 minutes. Remove from heat and let stand, covered, 1 hour before draining.
• Soup can be made 5 days ahead and cooled completely, uncovered, then chilled, covered. Thin with water when reheating.