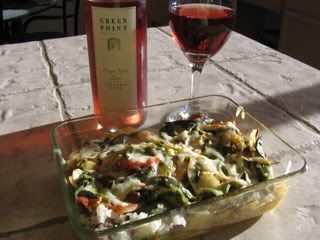 I always take a dozen pictures of my finished dish for my blog. Is it any wonder my dinners are never hot?

Anyway I couldn't decide which picture was better so I'm posting two.

This recipe is from Rick Bayless's Mexican Kitchen: Capturing the Vibrant Flavors of a World-Class Cuisine. I loved it although I was tempted to add more cheese. I love cheese! But I used the amount the recipe called for and it was perfect. You could also use shredded chicken or make it without meat if you wish.

The wine is a Pinot Noir Rose and was recommended by the owner of my local wine store. I don't think I've ever had rose before but I really liked it with this dish!

Tomato Rice Casserole with Poblanos and Melted Cheese.

This main dish recipe offers great everyday flavors: roasted tomatoes and green chiles baked with shreds of beef, tender rice and gooey cheese.
Without the meat, this casserole is a substantial side dish to serve with grilled or roasted meats or poultry. To set on a buffet, double the recipe and bake it in a 13 x 9-inch dish.

Serves 6 as a casual entrée

For 2 cups essential roasted poblano rajas
1 pound (6 medium-large) fresh poblano chiles
1 T vegetables or olive oil
1 large white onion, sliced 1/4 inch thick
3 garlic cloves, peeled and finely chopped
1/2 t dried Mexican oregano


1 pound ripe tomatoes
Salt )
1 cup medium grain rice, uncooked
1 cup grated Mexican Chihuahua or other melting cheese such as brick or Monterey Jack
1 1/2 cups boneless, shredded, cooked beef

1. Making 2 cups Essential Roasted Poblano Rajas. Roast the chiles directly over a gas flame or on a baking sheet 4 inches below a very hot broiler until blackened on all sides, about 5 minutes for open flame, about 10 minutes for broiler. (If using broiler, the tomatoes from step 2 can be roasted at the same time.) Cover with a kitchen towel and let stand 5 minutes. Peel, pull out the stem and seed pod, then rinse briefly to remove bits of skin and seeds. Slice into 1/4-inch strips.

In a medium-size skillet, heat the oil over medium to medium-high heat, then add the onion and cook, stirring regularly, until nicely browned but still a little crunchy, about 5 minutes. Add the garlic and oregano, toss a minute longer, then stir in the chiles and remove from the heat.

2. The Tomatoes. Roast the tomatoes on a baking sheet 4 inches below a very hot broiler until blackened on one side, about 6 minutes, then flip and roast the other side. Cool, then peel, collecting all the juices. Chop tomatoes coarsely and combine with the juices. Return the chiles to medium-high heat, add the tomatoes and their juices and stir until the juices are nicely reduced, 3 to 4 minutes. Season with salt, usually 1 teaspoon.

3. The Rice. In a large (6 quart) pot, bring 3 quarts of water to a boil and add the remaining 1 teaspoon of salt. Add the rice and simmer, uncovered, 15 minutes, until the grains are tender but not mushy or splayed. Pour into a strainer, then spread onto a tray to cool.

4. The Casserole. Preheat the oven to 350 degrees. Spread half of the rice over the bottom of a lightly greased 8 x 8 inch baking dish. Spoon on half of the chile-tomato mixture, spreading it to the edges, then sprinkle over about half of the cheese. If you're using any meat, distribute it over the cheese at this point. Cover with remaining rice, chile-tomato mixture and cheese (in that order), and bake until bubbling and brown, 20-30 minutes. Let stand 10 minutes and serve.