I have two new discoveries!

Discovery numero uno is Ranch Gordo's Heirloom Beans. Available at www.ranchogordo.com.

I've always bought canned beans and have been satisfied. I've never been impressed with dried beans purchased at the grocery store. But the Rancho Gordo beans are an entirely different animal. They're so fresh and tasty. I'm ready to place another order!

The first ones I cooked are the garbanzos. And all the recipes come from my second new discovery Mark Bittman's How to Cook Everything Vegetarian cookbook. My New Years resolution is to eat more whole foods, veggies and quality meat(which can be expensive so I guess you can say I'm going mostly veg).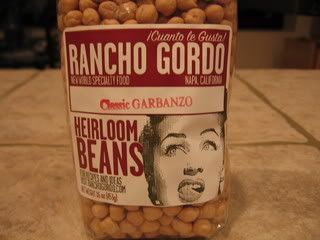 Cooked beans!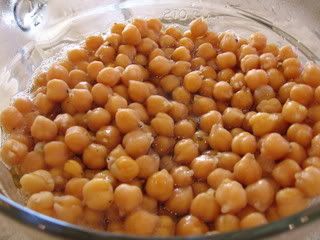 I'll definitely order more of these and use them in hummus, bean burgers and any other garbanzo recipe I can get my hands on.

To cook the beans I used Bittman's method.

Rinse and pick over the beans

Place in a pot and cover with 2-3 inches of water.

Bring to a boil then reduce the heat until the beans bubble gently. Partially cover pot.

Check every 10-15 minutes. When the beans start to get tender add a generous pinch of salt and a couple grinds of pepper. Stir occasionally

Add water as necessary.

I started tasting my beans right away and added the salt and pepper after about 20 minutes. Overall the beans took about 2 hours to cook and I had to add water twice.



I kept some out and froze the rest in their own broth. The first dish I made was Chickpeas in Their Own Broth. I thought this would highlight the flavor of the beans and it did. It was a very flavorful dinner served with a salad. Don't worry about the bread crumb size. Mine was uneven. And I did NOT use 1/2 cup of oil.




Chickpeas and their broth are so flavorful they hardly need anything else to be completely delicious, but a bit of garlic and good olive oil make this dish spectacular. Cooking your own chickpeas is really essential here, because canned chickpeas don't have the flavor.

One roughly 6-inch piece French or Italian bread, preferably a day or two old

½ cup extra virgin olive oil

salt & freshly ground pepper

3 cups cooked chickpeas with about 2 cups of their cooking liquid (5 cups total)

1 Tbsp. minced garlic

chopped parsley leaves for garnish

1. Roughly chop the bread and put it in a food processor; pulse until shredded, with no chunks larger than a pea but not much smaller either. Put all but 2 Tbsps of the oil in a skillet over medium heat. Add the bread and a sprinkling of salt and cook, shaking the pan occasionally , until the crumbs are nicely browned, 5 to 10 minutes. Use a slotted spoon to remove and drain on paper towels.

2. Warm the chickpeas in their broth with the garlic and add a good sprinkle of salt and pepper. Top with the bread crumbs, garnish with the parsley, and serve, or store, covered in the refrigerator for up to 3 days. Gently reheat and garnish before serving.

Baked Lima Beans Parmigiana

Now I tried this dish twice. Once with frozen limas and again with the garbanzos. Both had excellent results but didn't take a very pretty picture. I'm going to make this again with some of RG's Christmas Limas I also bought. I think that might make a better picture and will post it then

I didn't use nearly as much oil as he did....you could also use a jarred marinara but I think the fresh tomato sauce is better.

Baked Lima Beans Parmigiana

You can also use fava, endamame, cooked cannnelini, gigante beans or chickpeas

1/4 c olive oil
1 recipe Fast Tomoato Sauce(below)
4 cups fresh, frozen or cooked dry lima beans
salt and fresh ground pepper
1 cup cubed mozzerella(preferably fresh)
1 cup breadcrumbs (I used Panko)
1/2 cup grated parmesan cheese
1/2 cup chopped parsley for garnish

Preheat oven to 400

Use a tbs or so of the oil to grease a 2 qt souffle or gratin dish or a 9x13 baking dish

Spread tomato sauce in the dish and spoon the beans on top. Spread the mozz cubes around evenly pressing them into the sauce and beans a bit. Sprinkle with the bread crumbs and parm and drizzle with olive oil.

Bake until cheese is melted, sauce is bubbling and crumbs are brown, about 20-30 minutes.

Remove and sprinle with parsley and additional black pepper if desired. Can be served over rice or pasta.

Fast Tomato Sauce

3 Tbs olive oil or butter
1 med onion, chopped
1 24-32 oz can tomatoes drained and chopped (I'm lazy, I bought diced)
salt and fresh ground pepper

Heat olive oil in 12" skillet over med-high heat. Add onions and stir 2-3 minutes or until soft. Add tomatoes and salt and pepper to taste.

Cook, stirring occasionally, until tomatoes break up and the mixture comes together, thickening about 10-15 minutes. Taste and adjust the seasoning.