I love salsa!! I can eat it like there's no tomorrow. It's healthy, satisfying and so easy to make. This recipe is from Rick Bayless. It's not tremendously spicy but it does have a backkick to it. I made mine in my mortar.

Roast these: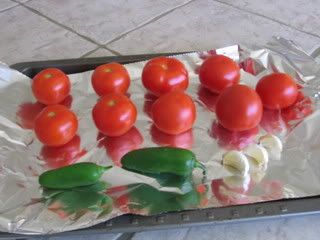 Pound the garlic and chiles with salt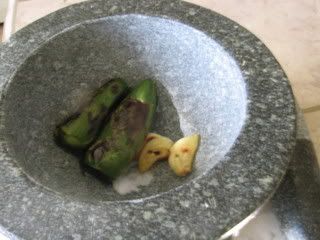 Add tomatoes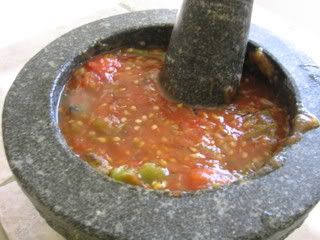 Add onions, cilantro and vinegar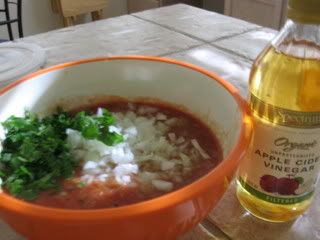 YUM!!!





1 lb red ripe tomatoes
2 large fresh jalapeno chilies
3 garlic cloves, unpeeled
1/2 teaspoon salt
1/2 small white onion, finely chopped
1/3 cup loosely packed chopped cilantro
1 1/2 teaspoons cider vinegar (optional)



1. Roasting the basic ingredients:.
2. The broiler method: Lay the tomatoes on a baking sheet and place about 4 inches below a very hot broiler. Roast until blistered and blackened on one side, about 6 minutes; with a spoon or pair of tongs, flip the tomatoes and roast on the other side.
3. The griddle method: Line a griddle or heavy skillet with aluminum foil and heat over medium. Lay the tomatoes on the foil and roast, turning several times, until blistered, blackened and softened, about 10 minutes. Don't worry if skin sticks to the foil. Cool, then peel the skins, collecting all the juices with the tomatoes. While the tomatoes are roasting, roast the chiles and unpeeled garlic directly on an ungreased griddle or heavy skillet (you already have one set up if you've griddle-roasted the tomatoes) over medium. Turn occasionally until both chiles and garlic are blackened in spots and soft, 5 to 10 minutes for the chiles, about 15 minutes for the garlic. Cool, pull the stems off the chiles and peel the papery skins from the garlic.
4. Grinding the salsa:.
5. The mortar method: In a large mortar, use the pestle to crush and grind the chiles, garlic and 1/4 teaspoon of the salt to a coarse-textured paste (this will release a wonderfully pungent aroma), paying special attention to breaking up the chile skins. A few at a time, grind in the roasted tomatoes, transferring the ground mixture to a bowl if the mortar gets unmanageably full.
6. The food processor or blender method: In a food processor or blender, grind the chiles, garlic and 1/4 teaspoon of the salt to a coarse paste, stopping to scrape down the sides of the bowl a couple of times. Add the tomatoes and pulse a few times until you have a coarse-textured puree. Transfer the salsa to a serving bowl, and stir in any reserved tomato juices.
7. Final seasoning. In a strainer, rinse the onion under running water, shake off the excess and stir into the salsa, along with the cilantro and optional vinegar. Add water, if necessary, to give the salsa a thickish, but easily spoonable, consistency (2 to 4 tablespoons is the norm). Taste and season with salt, usually a scant 1/4 teaspoon, and the salsa's ready to serve.