I'm cooking Thai again. This recipe is from Hot Sour Salty Sweet: A Culinary Journey Through South East Asia by Jeffrey Alford and Naomi Duguid.

One of my favorite Thai dishes is Larb(also known as Laab)so I was happy to see I had all the ingredients for the Shan (NE Thailand) style on hand.

This is spicy hot and instead of poaching the meat, as in other larb recipes, the meat is stir fried with a paste and herbs

Normally the meat is minced or ground but I left mine in bigger chunks.

The end result was fantastic. I loved the flavors.

Aromatic Minced Pork-Shan Style (Laab Moo Tai Yai)

Paste:
6-8 cloves of garlic, skins on
3 TBS minced lemongrass
1 TBS minced galangal
6 dried Thai red chiles
1 tsp salt
1 TBS toasted sesame seeds

Put the garlic cloves in a dry pan over high heat and roast until the skins are mostly blackened.

When cool remove skins and chop.

Now you can do this in your mortar and pestle but I used my mini-chopper.

Finely chop garlic with salt then add remaining ingredients and process one by one until a paste is formed.

Laab

2 TBS peanut or vegetable oil
1/2 cup chopped shallots
3/4 lb ground pork
1/2 cup chopped scallion greens
1/2 cup rough chopped coriander
1/4 cup chopped mint

Heat a large wok over high heat and add the oil. Add the shallots, lower the heat to medium and cook till browned about 4 minutes. Add the paste and break up with a spoon. Add the pork and cook till browned on all sides then an additional 2 minutes. Add the scallion greens, coriander and half the chopped mint. Remove from heat and mound on plates. Sprinkle with remaining mint. Serve with rice(I used jasmine) and vegetables.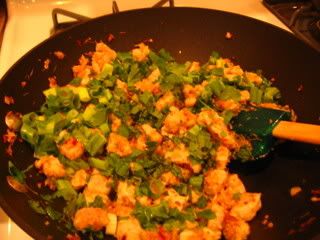 Shot with Canon PowerShot A510 at 2007-08-02