Welcome to my blog!

I'm still trying to figure out the settings on my digital camera so these pictures aren't so great.

This blog is going to take us on a trip around the world through international cookbooks. The list to the left will be updated. I'll also throw in some recipes from other sources.

Friday night's journey started in Northern Thailand. This recipe is from Hot Sour Salty Sweet: a Culinary Journey Through Southeast Asia by Jeffrey Alford and Naomi Duguid. If you don't already have this book, I highly recommend buying it. It's part travelogue part cookbook. The photography and narrative are excellent.

I chose Jungle Curry (page 246) partly because I like the sound of Jungle Curry and because we're in monsoon so it seemed like an appropriate dish on a hot balmy night.

Like most Asian recipes most of the time is spent prepping and setting up the mis-en-place. Once that's done it's smooth sailing.

This was also my first experience with shrimp paste. I had been warned of the smell but boy oh boy was I taken aback when I broke the wax seal! I was actually a little worried about the flavor it would give to the curry but from what I understand it works as an enhancer,like fish sauce. No trace of the stink in the final product.

I absolutely loved this dish! It was descibed as "hot" in the book but mine just had a little kick to it. I may increase the chiles when I make it again. I also discovered Jungle Curry is just as good the next day.

Ingredients for the Jungle Curry Paste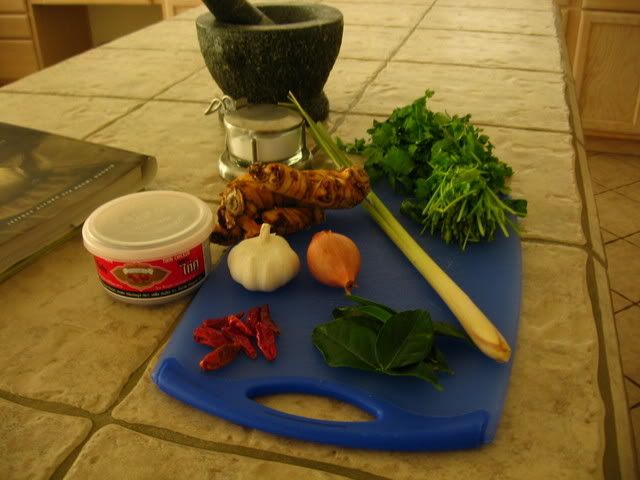 1/4 cup chopped shallots

1 tbs chopped garlic

1/2 tsp salt

1 tbs minced galangal

1 heaping tbs minced lemongrass(approximately one stalk)

8 dried red chilis stemmed and minced

1 tbs coriander roots(I couldn't find them so I used stems)

2 wild lime leaves deveined and minced

1 tbs shrimp paste

(the recipe also calls for 1 optional tbs minced krachai. I couldn't find it so I left it out)

Put the shallots and garlic in a large mortar and pound to a paste. Add each ingredient one by one pounding and grinding to a coarse paste.

You can also use a blender but I like my mortar and pestle.



Ingredients for the dish: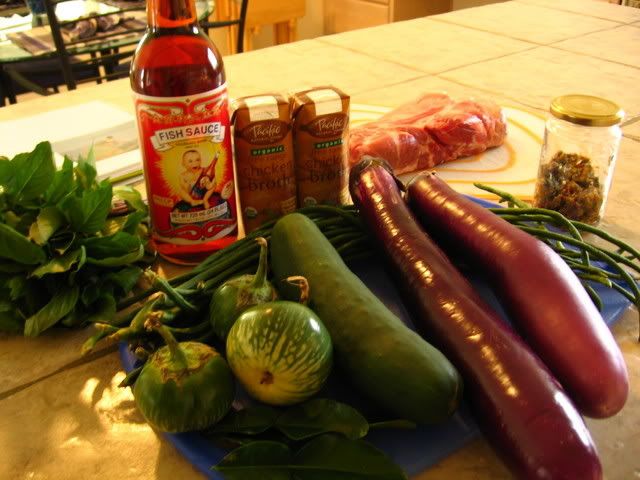 1 lb boneless pork cut into small pieces(I used butt)
2 tbs vegetable oil
2 tbs minced garlic chopped
3 round Thai eggplants quartered
1/2 lb yard beans or green beans cut into 1 inch sections
3 tbs Thai fish sauce(I like Golden Boy)
4 wild lime leaves coarsely torn
1 cup Asian basil leaves
salt to taste
(the recipe also calls for an optional 1/4 cup thinly sliced krachai to be added with the eggplants. I couldn't find it so I left it out)

Heat a large wok over high heat. Add oil and swirl to coat. Add garlic and stir until it begins to golden. Add curry paste and stir fry for 30 seconds pressing into the side of the wok. Add the pork and stir-fry until it begins to borwn on all sides 2-3 minutes. Add the broth and bring to a boil. Add the eggplants, beans, fish sauce and half the lime leaves and cook for 8 minutes. Add the remaining lime leaves and simmer for another 15 seconds.

Remove from heat and stir in the basil leaves. Salt to taste. Serve with sticky rice.

I had my Jungle Curry with a glass of Hirsch Veltliner. It was recommended as a "wine that goes with everything" by the woman in the wine shop. It's a thirst quencher of a wine. I'd describe it as citrusy and crisp. And affordable.

I know the quality of this photo sucks.
But it was a drab looking but fab tasting dish!