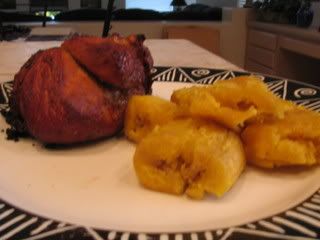 This recipe comes from the September issue of Gourmet magazine. I'm assuming you all know how to grill chicken so I didn't include directions here.

I loved the flavorful marinade. Peruvian food has a heavy Japanese influence hence the soy sauce. The other item you see on the plate is Tostones from the same issue. I didn't include the recipe here because I didn't think they were very good.

Pollo A La Brasa (Peruvian Grilled Chicken)

1/3 cup soy sauce
2 tbs fresh lime juice
5 garlic cloves
2 tsp ground cumin
1 tsp paprika
1/2 dried oregano
1/2 tsp black pepper
1 tbs vegetable oil
1 chicken, quartered

Blend soy sauce through oil in blender. Put in large ziplock bag and marinate 8-24 hours.

Grill.