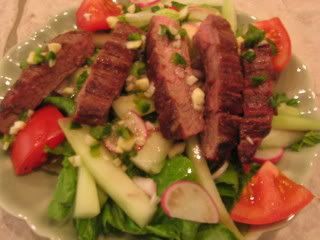 Back to Asian food! I wanted to make something refreshing that wouldn't heat up the kitchen.

I've made this salad twice and love it! The blend of herbs in the salad and seasoning in the dressing is perfect. I grilled my meat instead of broiling.

I got this recipe off The Monthly Challenge Blog but it's originally from the Bon Appetit (May 2001). The original source is The Blue Elephant Restaraunt in Paris (http://www.blueelephant.com/

Thai Lime Beef Salad

For the dressing:
7 T. fresh lime juice (about 5 limes)
7 T. fish sauce (nam pla)
3 T. minced, seeded jalapeno chilies
2 garlic cloves, minced
1 T. sugar

For the salad:
1 lb. flank steak
1 head romaine lettuce, torn in pieces
4 T. chopped fresh cilantro
2 tomatoes, quartered
3/4 c. chopped shallots
1/4 c. matchstick-size strips peeled cucumber
1/4 c. diced celery
1 T. chopped fresh mint
1 T. minced fresh lemongrass, or 1 t. grated lemon peel
1/4 c. thinly sliced radishes

Mix dressing ingredients in a small bowl. Let stand 30 minutes. (Dressing can be made 1 day ahead. Cover and chill. Bring to room temp. before continuing).

Preheat broiler. Sprinkle meat with salt and pepper. Broil to desired doneness, about 3 minutes per side for medium-rare. Transfer meat to cutting board. Let stand 10 minutes. Cut meat across grain into 2.5 inch wide strips. Cut strips crosswise into thin slices. Combine meat slices, lettuce, cilantro and next 6 ingredients (through lemongrass) in large bowl. Add enough dressing to taste (may not need all) and toss to coat. Season with salt and pepper. Sprinkle with radishes.