I love pomegranates, pistachios, prosciutto and persimmons so I HAD to make this salad. It was very little work and the outcome was wonderful! And it's such a pretty presentation for company.

For a special occasion I might spring for the pomegranate vinegar but it was delicious with the sherry vinegar. I bet you could use white wine or champagne vinegar with success too.

If you've never had persimmons you must get the Fuyus! the other kind, Hachiyas, are really meant to be cooked.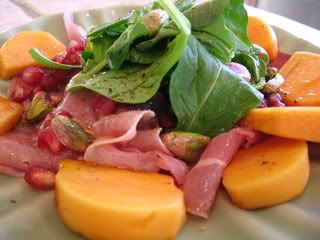 Prosciutto with Persimmon, Pomegranate, and Arugula
Bon Appétit December 2006

Makes 8 servings.

Clark Frasier and Mark Gaier

ingredients
16 thin slices prosciutto (about 8 ounces)
1/2 cup fresh pomegranate seeds
1 large Fuyu persimmon, peeled, pitted, cut into 1/4-inch-thick slices
4 ounces baby arugula
1/2 cup pistachios, toasted
Extra-virgin olive oil
Pomegranate vinegar* (pomegranate vinegar is $12.00. I used sherry vinegar I had on hand)

*Available at some supermarkets and at specialty foods stores.

preparation
Arrange 2 prosciutto slices on each plate. Sprinkle pomegranate seeds over. Arrange persimmon next to prosciutto. Mound arugula atop prosciutto. Scatter pistachios over. Sprinkle with pepper; drizzle with oil and vinegar.


Yes it's another fab fricassee! This one has no garlic. I served it with roasted cauliflower (toss with a little olive oil salt and pepper. Spread on a foil lined cookie sheet and roast at 400 degrees for 30 minutes turning every 10 minutes).

I was a bit confused on the cooking instructions as the times don't jibe with the other fricassee recipe. I included my modification.

For the wine I used Viognier because it's my favorite white wine.




Fricassee of Chicken with white Wine Capers and Olives

1 3-4 lb chicken cut into 8 serving pieces
Sea Salt
Finely ground white pepper
3 tbs Extra Virgin Olive oil
2 onions, peeled and sliced thinly
2 cups white wine
2 lb ripe tomatoes, peeled seeded cored and chopped
1 cup Picholine olives, pitted, or pimento stuffed olives(I found Picholines at the olive bar)
1/4 cup capers in vinegar, drained.

Season chicken with salt and pepper.

heat oil in large skillet over medium high heat. Brown chicken for 5 minutes on each side. Remove from pan. Reduce heat to low and add onions and cover pan. Sweat onions of 3 minutes. Add chicken back to pan and add remaining ingredients. Cover pan and simmer on low until chicken ins done. Recipe says 1 hour. I brought sauce to boil, reduced to low and simmered for 30 minutes.