These recipes come from The Provence Cookbook by Patricia Wells.

One of my favorite trips ever was to Provence and some of the recipes from this book took me right back.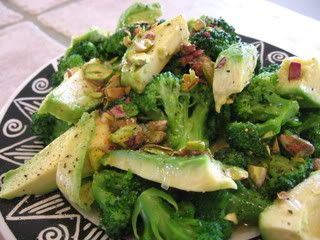 Broccoli, Avocado and Pistachios With Pistachio Oil( Brocoli, Avocat, Pistaches et Huile de Pistache)

This salad is filling enough to have as a meal. It was incredibly easy to put together too. I used olive oil because I didn't want to spring for pistachio oil. However, I think this will be much better with pistachio oil and since I'm planning on making it again, I will splurge on the oil.

1 tbs fresh lemon juice
1/2 tsp fine sea salt
1/4 cup pistachio oil, pine nut oil, almond oil, or extra virgin olive oil
3 tbs course sea salt
8 oz broccoli florets(about 2 cups)
1 ripe avocado
1/4 cup salted pistachios coarsely chopped

Thoroughly blend lemon juice, fine sea salt and oil.

Prepare a large bowl of ice water

Bring a large pot of water to boil over high heat. Add the coarse sea salt and broccoli and boil until the broccoli is crisp tender about 3-4 minutes. Drain and immediately plunge into ice water to cool.

Halve peel and slice the avocado. Arrange a mound of broccoli in the center of a serving plate. Arrange the avocado slices around the broccoli. Sprinkle with the pistachios and drizzle wit the lemon/oil mixture. Season with salt and pepper and let infuse 3-4 minutes before serving.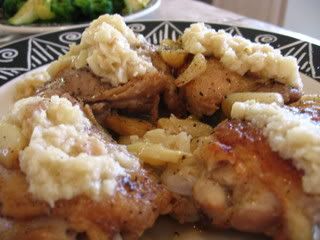 The chicken dish was fantabulous and it went together in no time at all. I made the confit a day ahead. Now you would think this would leave you reeking of garlic but the confit is actually sweet and the garlic that cooked with the chicken is mellow. No strong garlic taste at all, although, I haven't seen any vampires lurking about. Instead of a whole chicken I cut the recipe in half and used four thighs. I did have some sauce left over so I spooned it over bread. The leftovers are also excellent as the flavors really meld.

Sweet Garlic Confit (Confit d'Ail Doux)
4 plump heads of garlic =, cloves separated and peeled
1 qt whole milk

Place garlic cloves in a saucepan and cover with 2 cups of the milk. Bring to a simmer and drain, discarding the milk.
Simmer the cloves in remaining 2 cups of milk over low heat until soft, about 20 minutes. Cool cloves in milk. Drain, discarding milk. Keep refrigerated for up to one week.

Fricasee of Chicken with Garlic and Sweet Garlic Confit (Fricassee de Poulet a Ail et a L'Ail Confit)

1 farm fresh chicken cut into 8 serving pieces at room temperature
Fine sea salt
Fresh ground pepper
2 tbs unsalted butter
3 tbs extra virgin olive oil
20 plump cloves garlic peeled and halved
1 recipe Sweet Garlic Confit
1 1/2 White Wine(Viognier suggested)

Season chicken with salt and pepper.

Heat butter and oil in a skillet over medium heat. Add chicken skin side down and brown 5 minutes on each side. Use tongs to turn.
When all pieces are browned remove them and transfer to a platter.
Add halved garlic cloves to fat in the skillet. Reduce the heat to low, add the chicken and cook covered for approximately 20 minutes, turning the chicken once or twice until cooked through.

Remove the chicken and garlic from the pan and place on a platter. Season with salt and pepper to taste. Tent with foil.

Discard the fat from the pan. Return the skillet to high heat and add the garlic confit. Once hot, carefully pour the wine over the garlic and deglaze, carefully scraping up any bits that cling to the bottom of the skillet. Continue to cook over high heat, smashing the garlic to a puree(I used a potato masher). Spoon the puree over the chicken and serve.