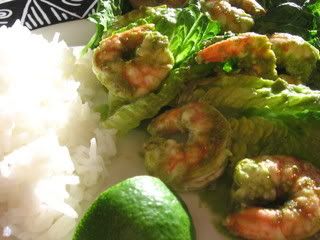 I want to eat this all the time. Maybe that's why it's considered Mozambique's national dish.

It was so easy to put together. I cut the Piri Piri recipe in half but honestly I wouldn't mind having extra to marinate chicken or other white fish.

This is also from The Soul of a New Cuisine by Marcus Samuelsson. I marked quite a few recipes in the book so expect more African dishes!

This is supposed to be an appetizer but I had it for dinner with rice.

Piri Piri

Blend the following in a blender:

8 red birds eye chilies, seeds and stems removed (my local store didn't have them so I subbed 2 serranos)
1/2 cup fresh lemon juice
1 tbs cilantro
1 tbs chopped parsley
2 garlic cloves
1/2 cup olive oil

Shrimp Piri Piri

12 jumbo shrimp peeled and deveined
1/2 cup plus 2 tbs Piri Piri, divided
2 tbs olive oil
1/2 tsp salt
12 Bibb lettuce leaves(I used romaine)

Toss shrimp with 1/2 cup of piri piri and refrigerate for 1/2 hour

Heat olive oil in sautee pan over medium heat and cook shrimp until done about 2 minutes each side.. Transfer to a plate and sprinkle with salt. Squeeze lime quarters over shrimp. Spread the remaining piri piri on each lettuce leaf, place a shrimp on the leaf, fold over bottom and sides to form a wrap and eat.