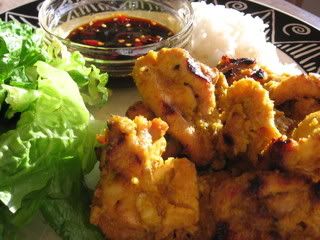 These recipes come from The Cradle of Flavor cookbook and are eyes rolling into the back of your head good.

I especially loved the dippping sauce and even after I had finished my satay, I was dipping my finger into the sauce and licking it off. I was going to make coconut lemongrass rice but it said not to cut the recipe and I didn't want a lot of leftover rice. So I just steamed jasmine rice and made a simple romaine salad.

I made the marinade for the satay a day ahead. When I initially tasted it on it's own my first impression was that it was very spicy. Not hot, as there's no chilis, just a real party in my mouth. But once it was brushed with the lemongrass oil and grilled it mellowed out. And when the chicken was dipped in the sauce it was heaven.

Also I never type a recipe as it is in the book. Instead I give my shortcuts, if there are any, and abbreviate the instructions. For example the satay recipe calls for thighs and gives instructions on boning and skinning. I just bought boneless skinless thighs. Also I cut the portions way back but include original portions in the recipe on the blog.

Chicken Satay-Sate Ayam (Teremgganu, Malaysia)

You can also make this marinade for a whole chicken or chicken legs. Also note the environmentaly friendly basting brush. It really does add flavor. I let the stalk sit in the oil for the hour the chicken was marinating.

Marinade

1 tbs coriander seeds
1 tbs fennel seeds
2 stalks fresh lemongrass hard brown bottom end cut off, tough outer layers removed and thinly sliced(1/16 ")
5 shallots coarsly chopped
3 cloves garlic, coarsly chopped
1 1 inch piece peeled galangal thinly sliced against the grain
1 2 inch piece peeled ginger peeled and thinly sliced against the grain
Scant 1 tbs tumeric
4 tbs palm sugar thinly sliced or dark brown sugar
2 tbs peanut oil
1 1/2 tsp salt

For the Satay

3 1/4 lb chicken thighs(boneless skinless)cut into 2-3 inch long and 1 inch wide pieces
1 thick stalk fresh lemongrass
4 tbs peaunut oil
30 sharp thin bamboo skewers soaked in water for at least 30 minutes

1. Make the marinade. In a small food processor grind the coriander and fennel seedd to a powder. Add lemongrass through salt and pulse until it's the consistency of creamy mashed potatoes. Make sure the lemongrass is well pulverized, otherwise it will taste bad. If paste doesn't puree properly you can add up to 2 tbs of water, one tbs a time. I did this.

2. Place marinade and chicken pieces in a bowl. Toss and let marinate at room temperature for an hour.

3. Prepare lemongrass stalk by cutting off end and peeling away tough outer layers. Smash the end with the edge of a knife so it resembles a brush. Pour the peanut oil in a bowl and let the lemongrass brush sit in the oil for at least 10 minutes. I let it sit the whole hour I marinated the chicken.

4. Prepare grill. Temperature should be medium hot and the rack should be oiled liberally.

5. Thread the chicken pieces on the skewers. Lightly baste the chicken with the lemongrass oil using the stalk as a brush. Grill the chicken until it has picked up some crispy black spots, about 3-7 minutes. Baste with more lemongrass oil and turn the skewers over, grilling until the other one is similarly browned another 3-6 minutes.

6. Transfer the satay skewers to a serving dish and let rest one minute before serving.

Sweet Soy Sauce and Lime Dipping Sauce-Sos Kecap Rawit (Indonesia)

3 fresh Holland or Thai Chilis, stemmed and sliced thin on the diagonal
4 tbs Kecap Manis(Indonesian sweet soy sauce)
1 tbs fresh lime juice

Combine all the ingredients. Use in one sitting as chilis go limp if they sit longer than one hour.