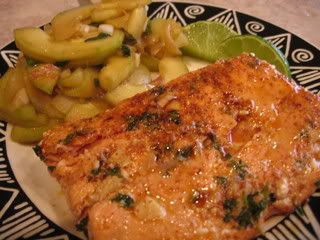 Lest you think I'm a glutton, that's not a huge piece of salmon. The food is on a salad plate.

And yes, I know they do not have salmon or arctic char in Madagascar but Marcus Samuelsson says the fish used in the original dish is not available in the states. My fishmonger didn't have char available so I used wild caught cojo salmon.

These recipes come from The Soul of a New Cuisine:A Discovery of the Foods and Flavors of Africa by Marcus Samuelsson. I haven't had time to read the book thoroughly but it looks interesting.

I was looking for Sub-Sarahan inspiration since all of the African dishes I've ever made are from North Africa and are Mediterranean.

This is a recipe I will defintely make again. It's not as spicy as I thought it would be and a nice break from more traditional salmon dishes. The recipe calls for arctic char but salmon is a good substitute.

I cut the sakay recipe down to about an eighth and eyeballed the measurements.

I loved the cucmber sambal-a Cape Malay influence. The Sambal was not very spicy, despite the serrano, and complimented the salmon.

Sakay

3/4 cup chili powder
1 tbs ground ginger
1 1/2 cayenne pepper
1 tsp ground cumin
4 garlic cloves, minced
2 tsp salt
1 cup peanut oil

Heat a medium sautee pan over medium heat. Add Chilli powder through garlic and toast until fragrant about 1 minute. Remove from heat and allow to cool slightly.

Put spice mixture in blender, add salt, and blend well on low speed. With the blender running, add the oil in a steady stream and blen to a paste.

Store in the refrigerator in a tighly covered container for up to two weeks.

Char with Sakay

Eight 3 oz skinless char or salmon fillets
2 cups olive oil
2 cloves garlic, minced
2 tsp chopped fresh thyme
1 cup sakay
1 line, quartered.

Combine olive oil, garlic and thyme and marinate fish for 2 hours in the refrigerator.

Preheat the oven to 275. Place the fish in a shallow baking dish and rub all over with the sakay. Bake for 20 minutes.

Remove the fish from the oven and allow to rest for 10 minutes. Squeeze a lime quarter over the fish and enjoy.

Cucumber Sambal

1 tsp sugar
1 tbs soy sauce
1 small yellow onion, finely chopped
2 garlic cloves, minced
1 shallot, finely chopped
1 serrano chili, seeds and ribs removed, finely chopped
2 inch piece of fresh ginger, peeled and grated
Juice of one lime
1 mint sprig, leaves only, chopped
1 cucumber peeled, seeded and sliced thin

Combine everything and let sit at room temperature for one hour before serving.