I'm starting to get my cooking mojo back now that summer has almost come to an end.

It's still pretty hot out so I'd rather grill than heat up my oven. And my house. but I'll be getting back to the international recipes soon.

I loved these burgers but instead of serving them wrap style I served them on a bed of romaine lettuce and veggies and ate it with a fork. It made convenient leftovers too.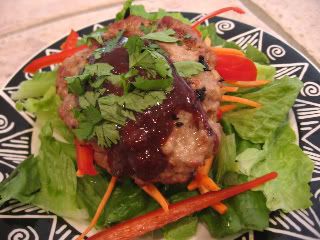 Asian Pork and Mushroom Burger Wraps

Bon Appetit July 2008

2 tablespoons canola oil or peanut oil
2 tablespoons minced lemongrass (from bottom 3 inches of about 4 stalks)
2 garlic cloves, minced
4 ounces fresh shiitake mushrooms, stemmed, caps chopped
1 teaspoon coarse kosher salt, divided
1 3/4 pounds ground pork shoulder (Boston butt)
2 tablespoons soy sauce, divided
3 teaspoons Asian sesame oil, divided
3/4 teaspoon cracked black pepper
1/2 cup hoisin sauce*
1 tablespoon minced peeled fresh ginger
1 tablespoon unseasoned rice vinegar
1 teaspoon hot chili sauce (such as sriracha)*
Nonstick vegetable oil spray
2 heads of Bibb lettuce, cored, leaves separated
1 cup matchstick-size strips red bell pepper
1 cup matchstick-size strips peeled carrot
1/3 cup fresh cilantro leaves
Preparation

Heat oil in large skillet over medium-high heat. Add lemongrass and garlic; sauté 2 minutes. Add mushrooms. Sprinkle with 1/2 teaspoon coarse salt; sauté until mushrooms are tender, about 4 minutes. Remove from heat; cool in skillet.

Place pork in large bowl. Mix in 1 tablespoon soy sauce, 1 teaspoon sesame oil, cracked pepper, and 1/2 teaspoon coarse salt, then fold in mushroom mixture. Using 2 generous tablespoonfuls for each, shape into 18 patties, each about 2 1/4 inches in diameter; arrange on plastic-lined baking sheet.

Whisk hoisin sauce, ginger, vinegar, chili sauce, and remaining 1 tablespoon soy sauce and 2 teaspoons sesame oil in small bowl for sauce. DO AHEAD: Burgers and sauce can be made 6 hours ahead. Cover separately; chill.

Spray grill rack with nonstick spray. Prepare barbecue (medium-high heat ). Grill burgers until cooked through, about 3 minutes per side. Arrange burgers on platter; set out sauce. Place lettuce, bell pepper, carrot, and cilantro in separate bowls. Serve, allowing guests to wrap burgers in lettuce and add sauce and vegetables as desired