Yep another Hunanese dish from the Revolutionary Chinese Cookbook!

Don't let the name fool you. This is a hot and numbing dish for wimps. Even Dunlop admits the amount of spice is not alarming.

I really liked the flavors but I was expecting more of a party in my mouth. If I make it again I will increase the amount of pepper.

The changes I made to the recipe are minor. I used boneless skinless chicken breasts. I did not deep fry the chicken, I stir fried.

If you can't find potato flour you can use 1 1/2 tsp of cornstarch for every teaspoon of potato flour.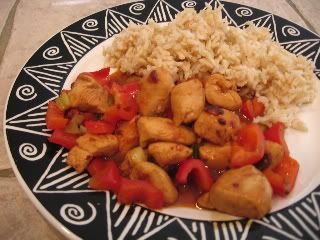 Numbing-and-Hot Chicken


12 oz boneless chicken thighs

1 small red bell pepper

1 fresh red chili or 1 tsp dried chili flakes

3 scallions

1 teaspoon whole Sichuan peppercorns

1 teaspoon sesame oil

1 1/4 cups peanut oil(I only used about 3 tbs total)

For the marinade

1 tablespoon Shaoxing wine

1 tablespoon regular soy sauce

1/4 teaspoon dark soy sauce

1 tablespoon potato flour mixed with 1 tablespoon cold water

For the sauce

1 tablespoon regular soy sauce

1 tablespoon rice vinegar

1/2 teaspoon potato flour

3 tablespoons water

Cut the chicken into bite sized pieces and combine with the marinade ingredients. Let sit while you combine the other ingredients. Cut bell pepper and scallions into bite sized pieces.
Crush peppercorns in a mortar and pestle(or you can use the back of a spoon in a bowl. Add to chopped or dried chile flakes, bell pepper and scallions.
Combine sauce ingredients.

Heat oil in a wok over med-high heat.

Deep fry chicken until golden brown. Remove from wok and drain all but 2 tbs oil(I stir fried and used less).

Add pepper mixture and stir fry briefly until fragrant. Add chicken and stir to combine. Add sauce and increase heat to reduce a bit. Remove from heat and stir in the sesame oil.