I've decided to start working my way through all the Rancho Gordo beans and various grains I have squirreled away.

I decided to start with RG's runner cannellini beans. I pre-soaked a cup of these bad boys for 2 hours, bringing the water to a boil first and keeping them covered.

Those I used in a salad inspired by THIS recipe on the RG website. I used fresh basil instead of oregano, canned tomatoes and olive oil and white wine vinegar. I spooned it on a bed of greens for lunch. It would also be a good filling in a whole wheat pita.




I soaked another half cup for the Farro-Mushroom soup.

Farro is my favorite grain and I need to eat more of it so choosing this recipe was a no brainer.

The farro-mushroom soup comes from Bittman's How to Cook Everything Vegetarian. He says it's from Lucca, Italy. I've been to Lucca and loved it. Anything that reminds me of Tuscany is a good thing.

The recipe actually starts as a farro soup with a mushroom adaptation. Lo and behold I had some dried porcini's so there was another item liberated from my pantry.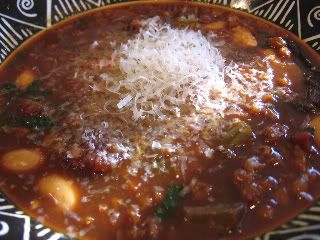 The soup is excellent but next time I'll use canned beans to reduce the cook time. I did use canned tomatoes.

2 tablespoons extra virgin olive oil
1 large onion, sliced
2 celery stalks, trimmed and chopped
2 carrots, peeled and chopped Salt and pepper
1 tablespoon minced garlic
1 cup farro, spelt or barley
1 cup dried white beans, soaked for several hours or overnight
2 cups chopped tomatoes (canned are fine; do not drain)
6 cups stock or water, more as necessary
1/4 cup chopped fresh parsley
1/4 cup chopped fresh basil,
optional Freshly grated Parmesan

Put oil in a large, deep saucepan over medium heat; a minute later add onion, celery, carrots, a large pinch of salt and some pepper. Cook until vegetables are glossy and onion is softened, 5 to 10 minutes. Add garlic, and stir; add farro, beans, tomatoes and stock, and stir.

Bring to a boil, then adjust heat so mixture simmers steadily. Cook until farro and beans are tender, at least an hour, adding stock or water as necessary if mixture becomes too thick. Stir in parsley and basil (if using), then cook another 5 minutes. Taste and adjust seasoning, then serve with lots of Parmesan