Yeah hell froze over. I sat through an entire episode of Rachel Ray's 30 Minute Meals. Is it me or is she less irritating these days? Anyway, my boyfriend saw the same episode and requested I make this for Labor Day. You can use any cut of meat. I bought grass fed ribeyes.

The steak was amazing. I loved the rosemary crust and the salad on top of the steak. The potato salad concerned because I am not a fennel fan. But with all the other spices and the mild pepper rings it was quite good. I may scale the chili powder back if I serve it for a crowd as it was pretty spicy.

And if you're wondering the meal really would have taken 30 minutes to make if I din't clean as I cook.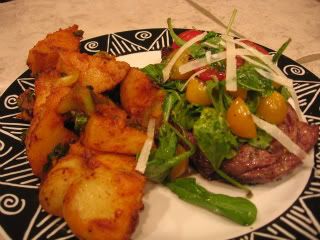 Rosemary Garlic Steaks with Arugula Tomatoes and Parmigiano Reggiano
Rachel Ray's 30 Minute Meals Summer Simplicity

4 sirloin steaks, 1-inch thick, about 10 to 12-ounces each
2 cloves garlic, cracked from skin and halved
Extra-virgin olive oil, for drizzling, plus 2 tablespoons
4 sprigs rosemary very finely chopped
Salt and freshly ground black pepper or grill seasoning, if desired
4 cups arugula leaves
1 pint multi-color, yellow or red cherry heirloom tomatoes or 2 medium vine-ripe tomatoes, cut into bite-size pieces
1 lemon
Parmigiano-Reggiano, for grating

Heat grill or grill pan to medium-high to high.

Rub room temperature meat with cut garlic. Drizzle the meat with olive oil, rub with rosemary and season liberally with salt and pepper or grill seasoning. Cook steaks 4 minutes on each side for medium, let rest 5 minutes then slice.

Dress greens and halved or chopped tomatoes with the juice of 1 lemon, 2 tablespoons olive oil and salt and pepper. Pile salad on top of sliced steak and garnish with long grates of cheese made with vegetable peeler.

Potato Salad Fra Diavolo
Rachel Ray's 30 Minute Meals Summer Simplicity

This salad is as red as the Devil, very spicy but flavorful.

2 1/2 pounds baby Yukon gold potatoes, halved
Salt
1 tablespoon ground fennel
1 tablespoon smoked sweet paprika
2 tablespoons chili powder
1 tablespoon grill seasoning or coarse salt and pepper
2 tablespoons grainy mustard
2 tablespoons red wine vinegar
1/3 cup extra-virgin olive oil
1 small red onion, chopped
3 to 4 ribs celery with leafy greens, finely chopped
A generous handful fresh flat-leaf parsley, coarsely chopped
3 tablespoons chopped yellow hot pepper rings
Place potatoes in pot, cover with water, bring to a boil then salt the water. Cook potatoes 12 to 15 minutes until tender.

While potatoes cook, combine spices and mustard with vinegar, whisk in EVOO and add the onions, celery and parsley to the bowl. Drain potatoes and toss them in dressing while they're still hot, they'll absorb more dressing and flavor. Garnish salad with chopped hot peppers.