A friend on my message board asked me if I had tried this recipe. I hadn't but I am always up for a new recipe!

This was fantabulous! And easy! I mean what's NOT to love about chicken coated in pecans and cooked in butter?

I did cut the recipe in half and it still made more than enough crumb coating. This is good enough to serve to company.

As you can see I served it with roasted asparagus and garlic bread. I roasted the asparagus right along with the chicken.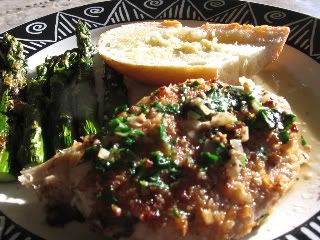 Pecan- and Panko-crusted Chicken Breasts
Bon Appétit | August 2006

4 skinless boneless chicken breast halves
1 cup panko (Japanese breadcrumbs)
1 cup finely chopped pecans(I bought chopped and chopped them further in my mini-prep)
6 tablespoons (3/4 stick) butter, divided

1/4 cup minced shallots
3/4 cup low-salt chicken broth
2 tablespoons chopped fresh parsley

Preparation
Preheat oven to 400°F. Sprinkle chicken with salt and pepper. Mix panko and pecans in dish. Melt 4 tablespoons butter in heavy large ovenproof skillet over medium-high heat. Remove skillet from heat; brush some of melted butter onto chicken, then coat chicken in panko mixture. Place skillet over medium heat. Add chicken and sauté until brown on bottom, about 2 minutes. Turn chicken over. Place skillet in oven. Bake until chicken is cooked through, about 18 minutes. Transfer chicken to platter.

Using slotted spoon, remove any crumbs from skillet. Add remaining 2 tablespoons butter and shallots; sauté over medium-high heat 1 minute. Add broth and simmer until slightly reduced, about 1 minute. Mix in parsley. Season sauce to taste with salt and pepper; drizzle over chicken.