I have a new favorite corn muffin recipe! Oh my these are so heavenly I had to quickly wrap up the extras and put them in the freezer so I wouldn't eat them all! I did take one as they cooled and drizzled it with butter and honey.

I was also excited about making posole. I've ordered it in restaurants but have never thought to make it myself, mainly because canned hominy does not sound appealing and I couldn't find dried at the grocery store when I thought to look.
So I decided to order some dried with my last Rancho Gordo order to see if there's a difference. There is! This recipe came with my order and I had to try it.
I did use Penzey's hot chili powder which made the soup a bit spicier than I like but I just ate an extra corn muffin to cool my mouth.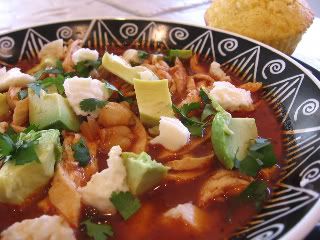 Posole Rojo

Steve Sando, Rancho Gordo
1 tbs olive oil
2 med white onions, chopped
8 cloves garlic, minced
1/3 cup tomato paste
3 tbs chili powder
1 tbs Mexican oregano(mine is Turkish)
3 1/2 cups chicken broth
4 cups cooked hominy
7 cups cooked shredded chicken(I poached boneless skinless breasts in chicken broth)
salt and pepper
Garnishes, diced avocado, chopped cilantro, finely chopped onions, chili powder (HA! is he kidding?)crumbled queso fresco, thinly sliced radishes in any combination.
I garnished with avocado, cilantro and queso fresco.
1. Heat oil in saucepan over medium heat. Add garlic and onion and cook until soft. Add tomato paste and spices stirring until mixed and warmed.
2. Add 4 cups of water, broth and hominy. Bring to a boil then reduce heat and simmer for 30 minutes.
Add chicken and serve with garnishes.
Corniest Corn Muffins
- makes 12 muffins -
Adapted from Baking From My Home To Yours by Dorie Greenspan

Ingredients
1 cup all-purpose flour
1 cup cornmeal
6 tablespoons sugar
2 1/2 teaspoons baking powder
1/4 teaspoon baking soda
1/2 teaspoon salt
Pinch of freshly grated nutmeg (optional)
1 cup buttermilk
3 tablespoons (1 1/2 ounces) unsalted butter, melted and cooled
3 tablespoons corn oil
1 large egg
1 large egg yolk
1 cup corn kernels (add up to 1/3 cup more if you'd like), fresh, frozen or canned (in which case they should be drained and patted dry)
Procedure
Getting ready: Center a rack in the oven and preheat the oven to 400°F. Butter or spray the 12 muffin molds in a regular-size muffin tin, or fit the molds with paper muffin cups.
Working in a large bowl, whisk together the flour, cornmeal, sugar, baking powder, baking soda, salt and nutmeg. In a large glass measuring cup with a spout or in another bowl, whisk together the buttermilk, melted butter, oil, egg and yolk. Pour the liquid ingredients over the dry ingredients and, with the whisk or a rubber spatula, gently but quickly stir to blend. Don't worry about being thorough – the batter will be lumpy and that's just the way it should be. Stir in the corn kernels. Divide the batter evenly among the muffin molds.
Slide the pan into the oven and bake 15 to 18 minutes, or until the tops are golden and a knife inserted into the center of the muffins comes out clean. Pull the pan from the oven and carefully lift each muffin out of its mold and onto a rack to cool.
Serving: The muffins are great warm or at room temperature and particularly great split, toasted and slathered with butter or jam or both (if they're not in breadbasket at dinner, that is).
Storing: Like all muffins, these are best eaten the day they are made. If you want to keep them, it's best to wrap them airtight and pop them into the freezer, where they'll keep for about a month; re-warm in a 300°F oven, if you'd like, or split them and toast them—do that and they'll be that much more delicious with butter.