I realized out of all the countries I've cooked from I have not made anything from Italy. Strange because I LOVE Italian food! So I checked Cucina Del Sole; A Celebration of Southern Italian Cooking by Nancy Harmon Jenkins out from the library. The recipes look fantastic but there are no pictures! I like cookbooks with pictures!

Anyway, this version of spaghetti caught my eye because I had most of the ingredients on hand. She recommends using olive oil packed tuna. I used water packed because I cannot open a can of tuna in my house without having a yowling cat at my feet. I don't actually feed her the tuna but I do let her lick the can. I really didn't want to give her olive oil because I'm the one who cleans the litterbox. This recipe does work with water-packed tuna but I will tell you that if you use it you may want to increase the amount of olive oil in the paste as mine was a bit dry. I was also intrigued by salt packed capers. I've always bought the brined. I picked up a bottle of salt packed, rinsed one off and the flavor is different. Not suprisingly they're salty and lack the vinegar taste of the brined.

I liked this dish and will definitely make it again, although next time I will add more olive oil for the aforementioned reason and make it into more of a pesto. And I'll keep telling myself how good all this oil is for my heart. Mediterranean people live longer than a lot of us and diet has been credited.

I did not add any extra salt as the olives and capers provided enough. I also used multi-grain spaghetti. Safeway has a brand called Eating Right which has the same nutritional profile as Barilla Plus but I think it tastes better and it's cheaper.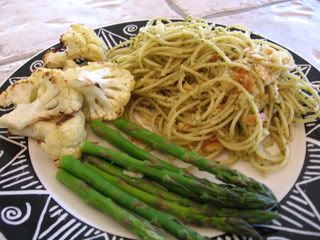 Spaghetti alle Olive Verde
Spaghetti with Green Olives and Lemon Zest

3-4 Tbs Olive Oil
2 Garlic Cloves sliced
3/4 cup bread crumbs-preferably homemade
1/4 to 1/3 cup drained canned tuna preferably oil-packed
2 tbs capers, preferably salt packed, rinsed and drained
1/2 cup mixed flat-leaf parsley leaves and basil leaves
2/3 cup coarsely chopped pitted green olives(I got mine at the olive bar at the grocery store)
Sea Salt (I ommitted this)
Crumbled dried red chili (I used red pepper flakes)
1 lb spaghetti
Grated zest of one lemon

Combine 2 tbs of the olive oil with the garlic in a small skillet and cook over medium-low heat for a few minutes, stirring frequently until the garlic begins to brown. Remove the garlic slices from the oil and discard. Add the bread crumbs to the oil in the pan and toast, stirring frequently, until the crumbs are golden and crisp. Remove from the heat and set aside.

In a food processor combine the tuna through the olives and process to a coarse paste. Add 1-2 tbs of olive oil and procss again. Taste for salt and add salt(if desired) and the chili to taste.

Cook spaghetti. Toss in a large bowl with the paste. Add the lemon zest and toss again. Top with the bread crumbs and serve.

Makes 4-6 servings.