Well I had a nice Mexican recipe all picked out but I left it at work.

This week I've been trying avoid trips to the grocery store and cook with what I have on hand. The following are two very easy recipes. I would bet that you have most of the ingredients on hand.

The first recipe is from Weight Watchers Take Out Tonight Cookbook. The recipe calls for bone in breasts and I have made it that way but I had boneless skinless in the freezer so I used them. It was good but the bone-in breasts are better. If you use the boneless you'll reduce your roasting time.

I served it with steamed asparagus.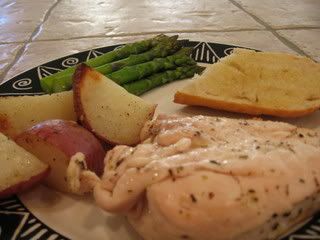 Lemon-Garlic Roast Chicken

1/4 C. fresh lemon juice
1 1/2 T. extra virgin olive oil, divided
3 cloves garlic, minced
1 tsp. oregano
1/2 tsp. marjoram
3/4 tsp. salt, divided
1/4 tsp. freshly ground pepper
4 skinless, bone-in chicken breasts
1 pound small red potatoes, quartered
1/2 C. water

1. Preheat oven to 425 F

2. Combine the lemon juice, 1 T. of the oil, the garlic, oregano, marjoram, 1/2 tsp of salt and 1/8 tsp. pepper in a large bowl. Add the chicken, tossing well to coat and marinate 20 minutes

3. Meanwhile, combine the remaining 1/2 T. oil, 1/4 tsp salt and 1/8 tsp pepper in a medium bowl. Add the potatoes and toss well to coat. Place a wire rack in the center of a large roasting pan. Arrange the potatoes around the rack and roast 20 minutes.

4. Remove the chicken from the marinade, reserve marinade. Remove the potatoes from the oven and place the chicken on the wire rack. Add the water to the reserved marinade and pour over the chicken and potatoes. Roast chicken and potatoes 20 minutes, baste with the pan juices. Return the pan to the oven and roast until the internal temperature is 170 F.

4 servings, 6 WW points per serving


The second recipe comes from the January '06 issue of Cooking Light. I looked at wild caught salmon at the store and it's very expensive right now. Luckily I had some frozen wild caught in my freezer. I won't eat farmed salmon so it may be a while before I make this again. I used my cast iron grill pan and didn't cover it. I served it with roasted brussels sprouts drizzled with balsamic vinegar.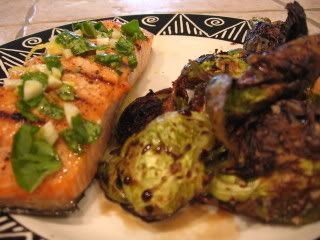 Grilled Salmon with Garlic, Lemon, and Basil

We found that fish cooks best on a nonstick grill pan with a dome-shaped lid, so the fish steams while it gets great grill marks. Serve with a tossed green salad and couscous.


Sauce:
2 tablespoons chopped fresh basil
2 tablespoons fresh lemon juice
1 tablespoon extravirgin olive oil
1/2 teaspoon grated lemon rind
2 garlic cloves, minced

Salmon:
Cooking spray
4 (6-ounce) salmon fillets
1/2 teaspoon kosher salt
1/4 teaspoon freshly ground black pepper

To prepare sauce, combine first 5 ingredients in a small bowl; set aside.

To prepare fish, heat a nonstick grill pan over medium-high heat. Coat pan with cooking spray. Sprinkle fish evenly with salt and pepper; add fish to pan. Cover and grill 4 minutes on each side or until fish flakes easily when tested with a fork or until desired degree of doneness. Serve with sauce.


Yield: 4 servings (serving size: 1 fillet and about 1 tablespoon sauce)