This recipe comes from Into the Vietnamese Kitchen by Andrea Nguyen. The cookbook is a good read but I'm having a hard time getting inspired to try the recipes. I think it's me and not the book though.

This salad is pretty good but I will warn you that the dressing is a nose runner. Very spicy. The dressing is also supposed to be red, which would make a prettier picture, but I used a green serrano instead of red Thai chile. The author suggests serving this with and even in rice soup. If I make this again I'm going to try it that way.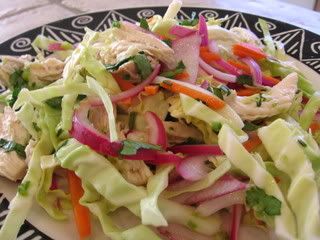 Spicy Cabbage and Chicken Salad
Goi Bap Cai Ga

Serves 4-6

1 tsp salt
2 boneless skinless chicken breasts
1 small red onion, thinly sliced
About 3/4 cup distilled white vinegar
1 small head green cabbage cut into 1/4 inch ribbons
1 carrot peeled and finely shredded
2 tbs finely chopped Vietnamese coriander or cilantro

Dressing
1 or 2 Thai or serrano chiles, chopped
1 clove garlic, chopped
1/2 tsp sugar
pinch salt
3 tbs fish sauce
6 tbs unseasoned rice vinegar

Fill a saucepan half way with water. Add salt and bring to a boil. Add chicken breasts. When water begins to boil remove pan from heat and cover. Let sit for 20 minutes. Drain chicken, shred with 2 forks and let rest to room temperature.

Place onion in a bowl and cover with vinegar. Let sit for 15 minutes. Drain and add to bowl with shredded chicken, cabbage, carrot and cilantro.

Use a mortar and pestle to mash the chile, garlic, sugar and salt to a fine paste. Place into a bowl and add the fish sauce and rice vinegar. Taste and adjust as needed. Toss with salad.