This is so easy to make. Throw everything in a pot. Boil and simmer for 30 minutes. There's minimal chopping too.

This stew is more about the veggies than the barley. It's very filling and healthy.

I used three medium French fingerling potatoes. My mushrooms consisted of button and a dried porcini and some other mushroom blend. Adding the reconstituting water to the broth really added a lot of flavor.

1/3 cup is a small amount of barley but if you have leftovers they grow overnight !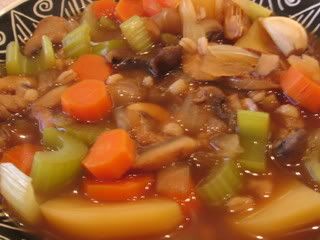 Barley & Mushroom Stew
Mark Bittman: How to Cook Everything Vegetarian)

Makes 4 servings
Time: about 30 minutes

Here barley almost plays a supporting role, as a toothsome component of a hearty vegetable stew. Use any root vegetables you like here and serve with crusty bread.

1 cup chopped onion
2 med. carrots, cut into chunks
2 celery stalks, roughly chopped
2 medium potatoes, preferably low starch, peeled and quartered*
8 garlic cloves, peeled
2 cups sliced mushrooms, preferably an assortment, or 1 cup sliced button mushrooms and ½ cup dried porcini other dried mushrooms, reconstituted in hot water to cover
1/3 cup pearled barley
1 tsp. fresh thyme or ½ tsp. dried
salt & freshly ground pepper
3 cups vegetable stock or water
chopped parsley or celery leaves for garnish(I didn't use it)

1. Combine all the ingredients except the parsley in a sauce pan. (If you use dried mushrooms, include their strained liquid and reduce the amount of stock or water accordingly.) Bring to a boil over medium high heat, then turn the heat down so the mixture barely bubbles. Cover and cook for 30 minutes, stirring once or twice.

2. The stew is done when everything is tender. Taste, adjust the seasoning, garnish and serve.