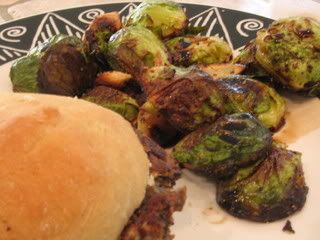 Who the heck is Moomie and why should I make her buns you ask?

I posed the same question after hearing multiple raves about these home made hamburger buns.

People said, "you'll never go back to store bought again!" "Making these is easier than going to the store!"

Really someone said that!

Anyway Moomie is a member of King Arthur Flour's Baking Circle and she has her own website HERE with all the variations to pimp your buns.

I caved and made some last night and I have to agree. They are ABSOLUTELY FANTASTIC!

Whether I ever go back to store bought remains to be seen. There's a bakery near my work that doesn't use all the crap you find in store bought bread and buns.

But I'll definitely make the effort to have some of these in the freezer for my bean burgers.

The only problem I had is mine weren't bun shaped. Apparently I didn't slap them into submission enough.

I also noticed King Arthur sells a hamburger bun pan. I may invest in this if I continue to have bun shaping issues because I'm a maniac like that.

Anyway here's the recipe. I used the food processor method because I don't have a bread machine.

I also cut the sugar back to 2 tablespoons and I used 1 cup of King Arthur's Whole Wheat Flour and 2 1/14 cups of King Arthur's white flour. I would have used all whole wheat but I hear from bread baker friends that there's different techniques for WW flour because of the gluten. I am not a baker so I don't know what those techniques would be but I'm gonna find out.

I also wouldn't use margarine because it's frankenfood and it's evil. Use the butter and keep it natural.

Moomies Buns

NGREDIENTS
Here's my "famous" hamburger bun recipe! I make these at least once a week! I seldom ever buy buns. And these are delicious.


1 cup warm water (90-95 degrees)
2 tablespoons butter or margarine
1 egg
3 1/4 cups flour*
1/4 cup sugar
1 teaspoon salt
1 tablespoon instant yeast

*Ed. Note: We think King Arthur Unbleached All-Purpose is a good choice, naturally!

INSTRUCTIONS
Place all ingredients in your bread machine. Select dough. Allow to run cycle.

Dump out onto lightly floured surface. Divide into 8 pieces. With each piece, slap into a bun shape. Usually four or five slaps will do it. Place on greased cookie sheets or your bun pans, cover; rise about 30 to 40 minutes.

Bake in preheated 375°F oven for 12 to 15 minutes till golden. Cool on wire racks. I like to add a teaspoon of onion powder and about 1/2 teaspoon dried onion to the dough in the bread machine. It makes a light onion-y flavor that is wonderful!

I made these in my food processor since I don't own a bread machine.

I combined the flour, sugar, salt and yeast in the food processor and pulsed to blend. Added the butter and pulsed a bit more. With the motor running I gradually added the warm water until a rough ball formed about 20 seconds. It should be slightly sticky. I then turned it out into an oiled bowl and let rise for an hour. Punched down, kneaded a bit and formed my buns and baked.

The Simplest Bean Burgers

These are from Bittmans book. I made todays burger mix with black beans. I've had them with garbanzos and kidney beans and I prefer it that way.

By the way someone bought all the garbanzos from Rancho Gordo. I looked at dried beans at the grocery store and the difference was so apparent I'll never go back to store bought beans again!

Makes: 4 to 6 servings
Time: 20 minutes with cooked beans

This is the way to go when you want a burger and have neither the time nor the inclination to fuss. When made with chickpeas, they're golden brown and lovely; with black beans, much darker; with red, somewhere in between. Lentils give you a slightly grainy texture.

There are, of course, an infinite number of ways to jazz these up (see the variations, as well as "13 Ways to Build Delicious Burgers"), but this has good flavor and texture and is excellent served on a bun with the usual fixings.

If you start with beans you've cooked yourself—especially well-seasoned ones—the results will be even better, and you can put the bean-cooking liquid to good use (I usually don't use the liquid from canned beans, which often has a tinnier taste than the beans themselves). Like almost all veggie burger mixtures, these will hold together a little better if you refrigerate them first (ideally you'd refrigerate both before and after shaping, but that's only if you have the time).

2 cups well-cooked white, black, or red beans or chickpeas or lentils, or one 14-ounce can, drained
1 medium onion, quartered
1/2 cup rolled oats (preferably not instant)
1 tablespoon chili powder or spice mix of your choice
Salt and freshly ground black pepper
1 egg
Bean-cooking liquid, stock, or other liquid (wine, cream, milk, water, ketchup, etc.) if necessary
Extra virgin olive oil or neutral oil, like grapeseed or corn, as needed

1. Combine the beans, onion, oats, chili powder, salt, pepper, and egg in a food processor and pulse until chunky but not puréed, adding a little liquid if necessary (this is unlikely but not impossible) to produce a moist but not wet mixture. Let the mixture rest for a few minutes if time allows.

2. With wet hands, shape into whatever size patties you want and again let rest for a few minutes if time allows. (You can make the burger mixture or even shape the burgers up to a day or so in advance. Just cover tightly and refrigerate, then bring everything back to room temperature before cooking.) Film the bottom of a large nonstick or well-seasoned cast-iron skillet with oil and turn the heat to medium. A minute later, add the patties. Cook until nicely browned on one side, about 5 minutes; turn carefully and cook on the other side until firm and browned.

3. Serve on buns with the usual burger fixings. Or cool and refrigerate or freeze for later use.

Simplest Vegan Bean Burger. Many options: Omit the egg, obviously. Add 1/2 cup Mashed Potatoes; or 1/2 cup cooked oatmeal or short-grain rice (white or brown); or 1/4 cup miso or 1/2 cup tofu.

Bean-and-Cheese Burger. As a flavor-adder, cheese can't be beat, plus there are two bonuses: You don't have to mess with melting cheese on top of the burger, and—for the most part—it acts as a binder. Add 1/2 to 1 cup grated Parmesan, cheddar, Swiss, Jack, mozzarella, or other cheese to the mix (you can omit the egg if you like).

Bean-and-Spinach Burger. Of all the veggies you can add to a burger, I like spinach. You can leave it uncooked and just shred it if you prefer (figure about 2 cups), but this gives better results; it's great with a little garlic added: Squeeze dry and chop about 1 cup cooked spinach (you'll need about 8 ounces of raw spinach to start, or you can use frozen spinach); add it to the mix and proceed with the recipe.

Bean-and-Veggie Burger. Many options, but don't overdo it or the burger will fall apart: Add up to 1/2 cup carrots, bell peppers, shallots, leeks, celery, potato, sweet potato, winter squash, zucchini, or a combination. Cut into chunks as you do the onion and grind with the beans or shred or mince and add afterward.

High-Protein Bean Burger. The soy gives it just a little boost: Instead of rolled oats, use rolled soy (soy flakes).

13 Ways to Build Delicious Veggie Burgers

There are more ways to vary the burgers in this section than I can imagine, but here are a few ideas. The basic rules are to make sure the mixture is neither too dry nor too wet (if you find yourself in the first situation, add a liquid ingredient; in the second, add some oats, ground rice powder or flour, cornmeal, flour, bread crumbs, or the like). But as for flavors, the sky's the limit.

1. Fresh herbs. You can almost not go wrong with fresh herbs, as long as you don't use overwhelming amounts. Add up to 1/2 cup parsley, basil, or dill leaves; somewhat less of mint, cilantro, or chervil; a tablespoon of oregano or marjoram; or only a teaspoon or so of fresh thyme, tarragon, or rosemary.

2. Dried herbs. Use by the pinch; to really get the seasoning right, taste and adjust it (you can cook a little bit first if you don't want to taste it raw).

3. Spices. The spice mix—chili or curry powder, for example—is an easy way to go, but you can combine fairly small amounts (usually 1/4 to 1/2 teaspoon) of various spices as you like. Try, for example, smoked paprika, cumin, and ground chiles; coriander, cumin, ginger, and cardamom; or anything else that appeals to you.

4. Garlic. Can't go wrong, really. Add 1 teaspoon or more minced garlic to the mix, or a tablespoon or more Roasted Garlic, with a little of its oil.

5. Chiles. For heat, you can simply add cayenne, hot red pepper flakes, or the like. But if you want some texture, you might include 1/4 cup or more roasted (or canned) green or red chiles.

6. Soy sauce or miso. Just a tablespoon or so of soy sauce, but up to 1/4 cup of any miso; you can omit the egg if you like.

7. Ketchup, salsa, or mustard. Up to 1/3 cup of ketchup or salsa (both of which are pretty good); 1 tablespoon or so of Dijon or other mustard.

8. Nuts or seeds. The nice thing about nuts is the crunch. Add 1/4 cup or so of sesame or sunflower seeds and up to 1/2 cup nuts or pumpkin seeds toward the end of the processing so they don't become too powdery.

9. Lemon, lime, or orange zest. The slight acidity brightens the taste.

10. Tomato paste. A tablespoon or two will give the burgers nice color and a more complex flavor.

11. Mushrooms. Add a tablespoon or so of dried mushrooms, soaked and cooked, as you would any other vegetable (see number 12). Or use up to about 1/2 cup raw, trimmed and added along with the oats and beans.

12. Cooked veggies. Milder flavor, softer texture than raw veggies: Add up to a cup of cooked vegetables— onions, greens, broccoli, potatoes, sweet potatoes, winter squash, zucchini—whatever you like. If you use potatoes and add them to the food processor along with the beans, you can omit the egg and oats.

13. Cooked grains. All-grain burgers tend to be mushy and uninteresting, but adding a bit of grains to other burgers results in a terrific light texture. Feel free to add up to a cup of cooked grains, along with the beans. Omit the oats and, if you like, the egg.

Roasted Brussels Sprouts with Garlic

Brussels sprouts used to be on my "most hated" list but that was before I discovered how awesome they can be when roasted! These are beyond delicious and simple. Mom's gonna be shocked they're on my menu!

This is also from Bittman's book.


1 pound Brussels sprouts
1/4 cup extra virgin olive oil
5 cloves peeled garlic, or more to taste
Salt and freshly ground black pepper
1 tablespoon balsamic vinegar


1. Preheat the oven to 450. Trim the hard edge of the stem from the Brussels sprouts, then cut each in half through its axis. Put the oil in a large ovenproof skillet over medium-high heat. When it shimmers, arrange the sprouts in one layer, cut side down. Toss in the garlic and sprinkle with salt and pepper.
2. Cook, undisturbed, until the sprouts
begin
to brown, 5 to 10 minutes, then transfer to the oven. Cook, shaking the pan occasionally, until the sprouts are quite brown and tender, about 30 minutes.
3. Taste and adjust the seasoning drizzle with the balsamic vinegar, stir, and serve hot or warm.