Today I made a double batch of Bittman's vegetable stock. I freeze it in 1 cup increments since I'm single and only use a little at a time.

Homemade stock takes very little effort and tastes so much better than the grocery store stocks and broths. You can also control the sodium that goes into it.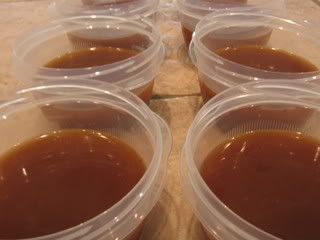 2 tbs olive oil
2 carrots sliced
1 onion quartered (I peeled mine)
1 potato sliced
1 celery stalk sliced
2-3 cloves garlic (I peeled mine)
5-10 white mushrooms sliced
10-20 parsley stems with leaves rough chopped
2 tbs soy sauce
salt and pepper to taste.

Heat olive oil in a large stock pot over medium high heat. add carrots throgh mushrooms. Cook without stirring for 5 minutes, then stir once or twice and cook until vegetables begin to brown.If you have time brown them well stirring infrequently.
Add parsley, 6 cups of water, soy sauce and pepper. Bring to a boil, adjust the heat and simmer for 30 minutes or until the vegetables are very tender. Longer is better if you have the time.

Strain then taste and adjust the seasoning adding more soy sauce or salt as desired.