I was fascinated by the picture of this in February's Bon Appetit. I LOVE cauliflower and the presentation of this particular recipe would be impressive if you have colorful plates.

Note to self: buy new plates

Anyway, I only made two modifications. I used 1% milk instead of whole milk and I used olive oil instead of vegetable oil.

The steak you see is a grass fed organic ribeye from Whole Foods. It was really tasty!

I was really depressed when Whole Foods bought Wild Oats but I was in there yesterday and they haven't jacked the prices and they still carry grass fed beef which is the only beef I'll eat.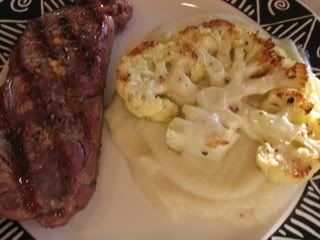 Cauliflower Steaks with Cauliflower Puree Bon Appétit February 2008

Few ingredients, big payoff: Large "steaks" are cut from a head of cauliflower, sautéed until golden, then baked until tender. They're served over a simple puree made from the cauliflower florets. An impressive first course, this can also be a lovely side. Just sear two mahi-mahi fillets in butter and place them alongside the cauliflower.

Makes 2 servings

Dan Barber

Ingredients
1 1 1/2-pound head of cauliflower
1 1/2 cups water
1 cup whole milk
2 tablespoons vegetable oil plus additional for brushing

Preparation
Preheat oven to 250°F. Using sharp heavy knife and starting at top center of cauliflower head, cut two 1-inch-thick slices of cauliflower, cutting through stem end. Set cauliflower steaks aside.

Cut enough florets from remaining cauliflower head to measure 3 cups. Combine florets, 1 1/2 cups water, and milk in medium saucepan, and sprinkle with salt and pepper. Bring to boil and cook until cauliflower florets are very tender, about 10 minutes. Strain, reserving 1 cup cooking liquid. Spread florets on large rimmed baking sheet, and bake 10 minutes until slightly dry. Transfer florets to blender. Add reserved 1 cup cooking liquid and puree until smooth. Return puree to same saucepan and increase oven temperature to 350°F.

Heat 2 tablespoons vegetable oil in heavy large ovenproof skillet over medium-high heat. Brush cauliflower steaks with additional oil and sprinkle with salt and pepper. Add cauliflower steaks to skillet and cook until golden brown, about 2 minutes per side. Transfer skillet to oven and bake cauliflower steaks until tender, about 10 minutes.

Rewarm cauliflower puree over medium heat. Divide puree between 2 plates; top each with cauliflower steak.