I really wanted to do grilled artichokes with this but when I went to fire up my grill the flint was broken. Wah! Grill repairman comes Friday.

So I did this on my cast iron grill pan which filled the house with smoke but the end result was great! Be sure and scrape up any little charred bits. They're tasty!!

I made 2 mistakes-neither one ruined the dish:

-I forgot to put the parsley in the bread crumb mixture so I sprinkled it on the final dish.

-I missed the part of the recipe where the oil was supposed to sit overnight. Mine sat for a hour and I just skimmed some off with a spoon. I imagine my leftovers will be better.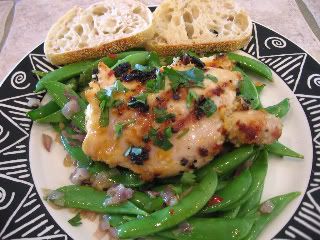 Chicken Thighs with Snap Peas and Agliata

- makes 6 servings -
Adapted from Mario Batali Italian Grill by Mario Batali.
Ingredients

12 garlic cloves, crushed
1/2 cup plus 3 tablespoons extra-virgin olive oil
2 salt-packed anchovies, filleted, rinsed, and patted dry, or 4 oil-packed anchovy fillets, drained
1/2 cup chopped fresh Italian parsley
2 cups fresh bread crumbs
12 boneless, skinless chicken thighs
3 shallots, sliced 1/4 inch thick
1/2 teaspoon anchovy paste
1 pound snap peas, blanched in boiling water just until bright green, chilled in an ice bath, and drained
Olio Piccante for drizzling
Procedure

1. Combine the garlic, 1/2 cup of the oil, the anchovies, parsley, and bread crumbs in a food processor and zap until smoothish.

2. Put the chicken thighs in a large bowl and sprinkle with the bread crumb mixture, turning to coat well. Arrange in a single layer on a platter and put in the refrigerator for 15 minutes.

3. Prepare a gas or charcoal grill for indirect grilling.

4. Place the chicken thighs skinned side up on the cooler part of the grill, cover the grill, and grill, turning once, until the chicken is cooked through, about 15 minutes per side.

5. Meanwhile, heat the remaining 3 tablespoons oil in a 10- to 12-inch sauté pan over medium heat. Add the shallots and anchovy paste and cook, stirring occasionally, until the shallots are soft, about 5 minutes. Add the snap peas and cook, stirring, just until heated through. Transfer the snap peas to a platter and set aside.

6. Arrange the thighs on top of the snap peas and serve with a drizzle of olio piccante.

Olio Piccante

- makes about 1 1/2 cups -
Ingredients

2 cups extra-virgin olive oil
5 jalapeño peppers, coarsely chopped
1/2 cup hot red pepper flakes
1 tablespoon sweet paprika
Procedure

1. In a small saucepan, combine the oil, jalapeños, pepper flakes, and paprika and bring to just a simmer over medium heat.

2. Pour the oil (and all the flavorings) into a heatproof bowl and let cool, then cover and refrigerate for at least 8 hours, or overnight.

3. Strain the oil and keep refrigerated until ready to use. It can be stored in the refrigerator in a tightly sealed jar for up to 10 days—no longer.