Summer to me means lots and lots of salads. It gets so darn hot I absolutely hate turning on the oven.

We painted walls over the weekend so the air wasn't on. I discovered my breaking point is 105 degrees. Today it was 110. It seems to early in the year for this and Mother Nature must agree as it's going to be back down in the 70's on Thursday. Go figure.

Today I have three salads, two I've never made before and one old favorite. What's great about these is that I usually have most if not all the ingredients on hand.

Salad #1 is Grilled Asian Flank Steak with Sweet Slaw from the June 2008 issue of Bon Appetit.

This was excellent although I must have had a turbo charged jalepeno. It was green since Fry's didn't have red. When I cut it open I could tell it would be strong so I used one half of one jalepeno seeded. The dressing was still a little too spicy and I am not a wimp to spice.

I also like that this is incredibly easy and you can chop the veggies and prep the dressing while the steak is marinating.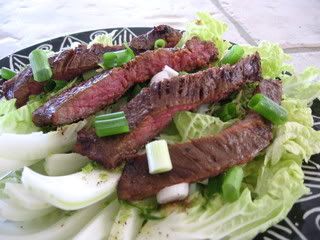 Grilled Asian Flank Steak with Sweet Slaw


1/4 cup soy sauce
5 tablespoons vegetable oil
5 teaspoons minced peeled fresh ginger, divided
1 garlic clove, pressed
1 1 1/2-pound flank steak
3 tablespoons sugar
3 tablespoons seasoned rice vinegar
2 red jalapeños, thinly sliced into rounds
5 cups thinly sliced Napa cabbage (about 9 ounces)
3/4 cup chopped green onions, divided

Prepare barbecue (medium heat). Mix soy sauce, oil, 3 teaspoons ginger, and garlic in resealable plastic bag. Add flank steak and seal bag; turn to coat. Let stand at room temperature 30 minutes, turning occasionally.

Stir sugar and vinegar in small saucepan over medium heat until sugar dissolves; remove from heat. Add jalapeños and remaining 2 teaspoons ginger. Place cabbage and 1/2 cup green onions in medium bowl.

Pour vinegar mixture over and toss to coat. Season with salt and pepper. Let stand while grilling steak, tossing occasionally.

Grill steak until cooked to desired doneness, about 6 minutes per side for medium-rare. Transfer to work surface. Let rest 10 minutes. Slice steak thinly against grain. Sprinkle 1/4 cup green onions over slaw.

----------------

The following night I made Grilled Chicken and Romaine with Caper Dressing. I love grilled radicchio and was intrigued by the grilled romaine. I would say this is a salad that is good but needs some tweaking. I liked the grilled lettuce and the dressing is very similar to my standard home made vinaigrette but it needed more veggies. Grilled veggies!




Grilled Chicken and Romaine with Caper Dressing Bon Appetit, March 2008

3 tablespoons Sherry wine vinegar
1/2 cup extra-virgin olive oil
1/4 cup minced shallots
2 tablespoons drained capers
1 tablespoon Dijon mustard
4 skinless boneless chicken breasts (about 1 3/4 pounds)
2 hearts of romaine lettuce, halved lengthwise, core left intact
Shaved Manchego or Parmesan cheese

Preheat barbecue (medium-high heat). Puree vinegar and next 4 ingredients in small processor until almost smooth. Season dressing to taste with salt and pepper. Combine chicken and 1/4 cup dressing in medium bowl. Sprinkle with salt and pepper.

Let stand at room temperature 15 minutes. Place romaine, cut side up, on baking sheet. Drizzle with 1/4 cup dressing; turn to coat. Grill chicken until cooked through, about 6 minutes per side. Transfer to plate. Grill romaine until charred and slightly wilted on all sides, about 2 minutes.

Transfer 1 chicken breast and 1 romaine spear to each of 4 plates. Drizzle chicken with remaining dressing, sprinkle generously with cheese, and serve.
--------------

And finally we come to the classic Nicoise Salad which I've been making from memory for quite some time. The best Nicoise salad I ever had was in Nice of course. Mine will never be as good but that's ok.

And yes I know I have to turn on the oven for this one but it's worth it!




Unfortunately I don't measure when I make this. I just eyeball it until it looks right. Generally I use one egg, one small red potato and one 3 oz can of water packed tuna and a tablespoon of dressing per salad.

I use my basic vinaigrette dressing which is 1/4 cup olive oil and 3 tbs white wine vinegar whirled in a blender to emulsify. I then add some rough chopped shallot and dijon mustard, salt and pepper and whirl again, adjusting ingredients to taste. I keep this in a jar in my pantry.

For the salad make sure you have a hard boiled egg. You can also roast the green beans and red potato ahead of time. Just toss with olive oil salt and pepper and roast at 450. I start the potato first then turn at about 8 minutes, add the beans to the pan and roast another 8 minutes or so.

The salad consists of greens (I use romaine or whatever other greens are in the fridge), chopped hard cooked egg, canned tuna, capers, kalamata olives, and the roasted green beans and potato.