I just got a new fantabulous cookbook, The Splendid Table's How to Eat Supper by Lynne Rossetto Kasper and Sally Swift. I'm a faithful Splendid Table pocast listener and a fan of Lynne's other cookbooks.

This one is chock full of anecdotes, quotes, and tip including the one I adopted tonight-the garlic rock.

Sally prefers to smash garlic with a rock rather than the edge of a knife and I'll admit a rock does a pretty good job. I found mine in my front yard. It has a really nice flat edge. I plan on using it a lot!

My garlic rock.




On to the recipe...

This was quick and very good. With the bread it made a great light meal.

I used Great Northern beans but if I do it again I'll use cannellini as I prefer them. She says NOT to use any thicker skinned beans as they won't absorb the flavor as well. Also do not stir the beans as they will break apart. Instead fold them gently with a spatula.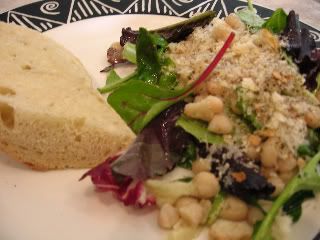 Warm White Bean Salad with Fragrant Garlic and Rosemary

Topping:

1/2 slice of coarse whole grain bead course ground in a food processor(about 2 heaping tablespoons)

3 tbs fresh grated Parmigiano-Reggiano cheese
1/4 tsp fresh ground pepper

Salad

5 large garlic cloves crushed with 1/2 tsp salt
1/4 cup extra virgin olive oil
1/2 tight packed tbs fresh rosemary coarse chopped
2 15 oz cans organic cannellini or Great Northern beans drained and rinsed
Large handful of salad greens (I used baby greens)

In a dry skillet toast the crumbs till brown. Transfer to a small bowl and add the Parmigiano cheese and pepper when cool.

In the same pan slowly warm the garlic in the olive oil over low heat for 30 seconds. Add the rosemary, blending for another minute or so.

Raise the heat to medium, add the beans and fold them gently so they don't break apart until heated through, about 3 minutes. Add the greens and fold until slightly wilted, 30 seconds to one minute.

Turn into a serving bowl and top with the crumb mixture and salt and pepper.