The words "cheese gilded" sounded like heaven to me when I was reading The Splendid Table's How to Eat Supper. This is not as decadent as it sounds and makes a great Sunday afternoon dinner. I'd serve it as an informal meal to company.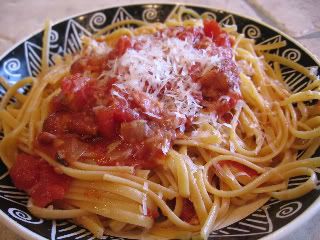 Cheese-Gilded Linguine with Smoky Tomatoes

Serves 4 as a main dish

15 minutes pre time; 20 minutes stove time.
The sauce can be made 1 hour before serving.

You can buck up the personality of a bowl of pasta by merely switching the order of how grated cheese and tomato sauce are blended with the noodles. Bring in smoky flavors and a snap of chile, and you have a modern improvisation.

This cheese trick comes from Naples, where cooks make simple tomato-sauced pastas more substantial by tossing the pasta first with the grated cheese, then with the sauce.

* 5 quarts salted water in a 6-quart pot
* Extra-virgin olive oil
* 6 thick slices bacon, sliced into 1/4-inch-wide sticks
* 1 medium to large onion, chopped into 1/4-inch dice
* Salt and fresh-ground black pepper
* 1/4 teaspoon red pepper flakes, or to taste
* 5 large garlic cloves, minced
* 2-1/2 to 3 pounds delicious ripe tomatoes, cored and fine chopped (do not peel or seed); or one 28-ounce can whole tomatoes with their liquid, plus one 14-ounce can, drained(I used one can whole and one can chopped)
* 1 pound imported linguine
* 1 generous cup fresh-grated Parmigiano-Reggiano cheese, plus more for the table

1. Bring the salted water to a boil.

2. Lightly film a straight-sided 12-inch saute pan with oil, add the bacon, and set over medium-high heat. Saute until the bacon is golden. Remove it with a slotted spoon, setting it on paper towels to drain. Pour off all but about 3 tablespoons of the fat from the pan.

3. Return the pan to the heat, and stir in the onions, salt and pepper, and red pepper flakes. Reduce the heat to medium. Sauté until the onions soften and start to color, 5 to 8 minutes.

4. Blend in the garlic, cooking for 1 minute, and then add the tomatoes. If using canned ones, crush them as they go into the pan. Stir in the cooked bacon. Bring the sauce to a lively bubble and cook until it is thick, 7 to 8 minutes, stirring to keep it from sticking. Remove from the heat, taste for seasoning, and cover the pan. The sauce can wait on the stovetop for up to an hour. Bring it to a bubble before adding it to the pasta.

5. Drop the pasta into the boiling water, and cook until it is tender but still a little firm to the bite. Drain, and turn it into a serving bowl. Toss with the 1 cup cheese until it clings to the noodles, then toss with the sauce. Serve hot, with additional cheese at the table if desired.