A friend of mine commented on the lack of desserts on this blog. The reason is that I'm one of those weird people without a sweet tooth. I have a salt tooth, a spice tooth and even a garlic tooth but dessert just doesn't entice me.

I made this pudding for the first time a couple of years ago for a work poutluck and my coworkers have requested it for every potluck ever since. I don't mind. It's easy and I never take home leftovers. It's always a hit.

This is also the only Paula Deen recipe I have ever made. Which is probably why, after having blood work done last week, the doctor told me my blood pressure, cholesterol and gluclose levels are all perfect. Paula's recipes tend to scare me. I once saw her fry butter. Yes fried butter. My arteries clogged at the mere thought.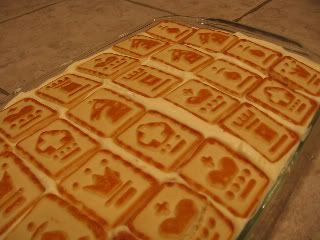 Not Yo' Mama's Banana Pudding
Recipe courtesy Paula Deen

2 bags Pepperidge Farm Chessmen cookies
6 to 8 bananas, sliced
2 cups milk
1 (5-ounce) box instant French vanilla pudding
1 (8-ounce) package cream cheese, softened
1 (14-ounce) can sweetened condensed milk 1 (12-ounce) container frozen whipped topping thawed, or equal amount sweetened whipped cream (Cool Whip and their store brand equivalents only come in 8 and 16 oz containers. I bought a 16 and eyeballed it.)

Line the bottom of a 13 by 9 by 2-inch dish with 1 bag of cookies and layer bananas on top.

In a bowl, combine the milk and pudding mix and blend well using a handheld electric mixer.

Using another bowl, combine the cream cheese and condensed milk together and mix until smooth.

Fold the whipped topping into the cream cheese mixture. Add the cream cheese mixture to the pudding mixture and stir until well blended.

Pour the mixture over the cookies and bananas and cover with the remaining cookies. Refrigerate until ready to serve