I have a lot of odds and ends in the fridge so I was searching for recipes where I would only have to buy one to two ingredients. I came across this and I only had to buy baby bok choy. Score!

And this was a jackpot in more ways than one as I think it's pretty healthy(or at least wholesome), quick, easy and tastes fantabulous. I love soba noodles with a good peanut sauce and this one has just the right amount of tang and heat.

Try this. You won't be sorry!

I made the recipe as is.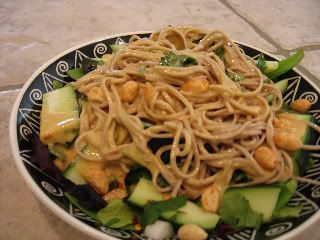 Sesame Soba Noodles with Cucumber, Bok Choy, and Mixed Greens

Bon Appetit June 2008

Makes 6 servings

1/2 cup fresh orange juice
1/4 cup creamy peanut butter
2 tablespoons unseasoned rice vinegar
2 tablespoons chopped peeled fresh ginger
2 tablespoons fresh lime juice
1 tablespoon finely grated orange peel
1 tablespoon soy sauce
2 garlic cloves, peeled
1 1/2 teaspoons finely grated lime peel
2 teaspoons dried crushed red pepper, divided
1/3 cup canola oil
8 ounces soba noodles
1 teaspoon Asian sesame oil
3 cups (loosely packed) mixed baby greens
2 heads of baby bok choy, cored, thinly sliced crosswise
1 English hothouse cucumber, cut into matchstick-size strips
3 green onions, cut into matchstick-size strips
1/3 cup chopped fresh cilantro plus sprigs for garnish
2 tablespoons chopped fresh mint
Salted roasted peanuts

Puree first 9 ingredients and 1 teaspoon red pepper in blender until smooth. With machine running, gradually add canola oil through opening in lid. Season dressing to taste with salt and pepper. DO AHEAD: Can be made 1 day ahead. Cover and chill. Bring to room temperature before continuing.

Cook soba noodles in large pot of boiling salted water until tender but still firm to bite. Drain. Rinse with cold water; drain well. Using kitchen shears, cut noodles crosswise in 2 to 3 places. Drizzle noodles in strainer with sesame oil and toss to coat.

Place greens, bok choy, cucumber, green onions, chopped cilantro, and mint in large bowl. Add 1 teaspoon red pepper, dressing, and noodles; toss to coat. Season to taste with salt and pepper. Garnish with cilantro sprigs and peanuts and serve.